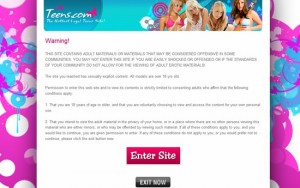 National A-1, the company that owns premium names like Pizza.com, Free.com and Cash.com, also owns and operates Adult Websites on some of their category-killer names. 
When you own names like Condoms.com and SexToys.com, there's really no choice except to operate a website, especially simple sites that can rake in the cash while keeping cost down by placing affiliate advertisements or using dropshipping.
National A-1 is Running a Business
Adult-oriented sites like any other niche on the internet are a business, they're just not for everyone. 
Many domain investors own Adult-related domains. It's no shock or surprise, it's just PLAIN BUSINESS. And  National A-1: they're one of the BEST at what they do, amassing one of the world's best domain portfolios.  And they've even gone beyond parking with many of their names like Divorce.com.
If you type in a National A-1 Domain name, you've probably ended up on a webpage like the one below for Ladies.com (http://www.ladies.com/) which is powered by D.D.C: The Domain Development Corp.  But if you've checked lately, many of National A-1′s category-killer names are moving away from parked pages to websites.
Some Information About DDC
Most of National A-1′s domain names appear to be powered by DDC.   Here's a brief blurb from the DDC website about what they do.
Domain Development Corp (DDC) is a comprehensive monetization and full-scale domain development company.
Founded by industry pioneers, DDC's experience optimizing premium digital real-estate and our strategic partnerships have made us a global leader. While DDC manages some of the world's most successful properties, we remain nimble enough to implement customized solution to fit your needs, deliver quality traffic, and build real value. DDC's impactful proprietary turnkey domain, development, and search solutions fully monetize your portfolio and maximize your revenue…
A Sample of National A-1′s Adult Properties
Some of National A-1′s other Adult properties (NSFW) that are more than just Parked pages include:
HotMovies.com
Teens.com
Condoms.com
SexToys.com
Spanking.com