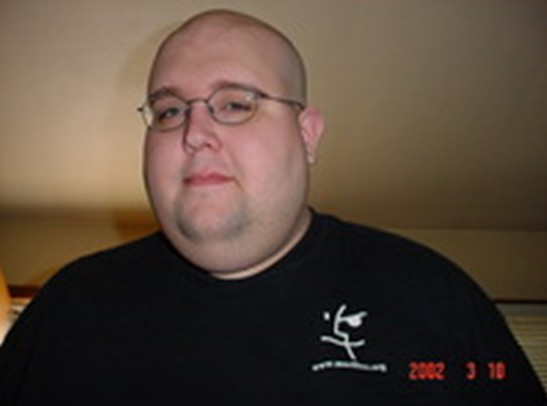 ShoeMoney.com is one of my daily reads, and he also has a really inspirational story.
Before founding ShoeMoney.com he was $50,000 in debt, smoked two packs of cigarettes a day, weighed 420 lbs and slept on his friend's couch.
All that changed in 2003 when he started ShoeMoney.com.
Here's a clipping from his About page:
In 2003, I took the plunge and started my own business, began writing my blog (ShoeMoney.com), and took my ringtone community company, Next Pimp, to the next level. Not only had I lost over 200 pounds that year through a remarkable surgery, but I also started making more money online in one month than I had made throughout my ten-year career. Actually, a photo of me with a check for $130,000 (my one-month earnings from Google AdSense) is one of the most linked to pages on my blog.

In March 2007, my business partner, David Dellanave, and I launched AuctionAds, an eBay affiliate marketing service that serves eBay auction ads on contextually relevant sites. The service won multiple awards and in a matter of months, marketing company Media Whiz purchased a majority of the company.

My blog, ShoeMoney.com, shares my ups and downs in the world of online marketing to a loyal daily readership of over 30,000 people. ShoeMoney.com has been named the Best Affiliate Marketing Blog and ranks in Technorati's top 50 blogs for the past three years. Having made millions of dollars over the past five years, I want to share my insights with others so they, too, can learn and grow.
Make More Money as a Blogger
If you believe everything you read, then it might be a lot easier to give up on things, but if you read stories like ShoeMoney's, then you can easily find inspiration, especially since his website shares real-world lessons about what works and what doesn't work.
In a recent article on ShoeMoney.com, Justin Goff (who runs GymJunkies.com) wrote a story called "How Being a Good Copywriter Can Make You More Money As A Blogger."
It includes points like:
1. Up your prices for your products or services. Why? Because according to Justin You attract better clients and users and you have more money to get new customers.

2. Be a good storyteller.

3. Write your posts as if you were talking to just 1 person.

4. Focus on your headlines, call to action and layout.

5. Smack your readers in the face with TONS of social proof.
In the last and probably most important point for many of us getting a start, Justin writes:
Being a successful blogger won't happen overnight. If you follow some of the principles I outlined above you'll be ahead of 95% of the crowd. If you're just getting your blog started my last guest post on here will be helpful to you… It's the story of how I went from 0-350 visitors per day in just one month on my blog."