You might not read sites from successful Affiliate Marketers like ShoeMoney.com, but to better understand how to make money from your websites, even minisites, Affiliate Marketers who take the time to blog offer a lot of positive information you can use while taking your own domains from parked to developed.
Affiliate Marketer Bloggers Speak About Development
We read a lot about domaining but also about affiliate marketing. We're relatively new to the Domain Industry, so we try and read everything. Right now we're reading a lot about affiliate marketing these days, because of the number of sites we have online and the limited resources we have to manage them all.
With the dwindling PPC revenue but the rising number of domains we own, we're looking to add some cash from all of our domains and improve them by taking them to the next level.
Like Domain Bloggers, Affiliate Marketers like John Chow, ShoeMoney and others who blog share a lot in common with domainers. While domainers focus on buying and selling domains to make money, affiliate marketers make money even on terrible domains because they test and test and test – until they find the right formula for making money – without giving up.
ShoeMoney like MANY Entrepreneurs still has failed ideas, but tries new things all the time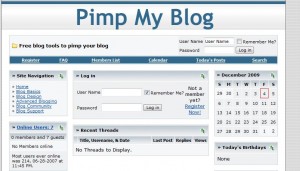 ShoeMoney's blog doesn't mince words when it comes to making money – even the guest authors on the site have some real success stories to share that can really help domainers looking to turn their domains that make zilch, into something. We own dozens and dozens of terrible names, but we don't get down, we don't get discouraged. We work hard using what we have and by reading the background stories on many successful affiliate marketers – you'll learn success didn't happen overnight.
Jeremy Schoemaker of ShoeMoney, might be a multi millionaire now, but he still tries and fails by developing ok domain names into affiliate sites. His Top 10 Worst Ideas include: FireFoxForum.com, BabyCalc.com, PimpMyBlog.com, Omaha-Used-Cars.com, and others.
The Key is Not Giving Up, Look at Jonathan Volk
Jonatahn Volk recently posted a blog on ShoeMoney.com and he talks about how he made $1.5 million dollars from a FREE CSS template. And guess what? A lot of what he talks about relates directly to domainers looking to develop their domain names.
You know, the most common problem I hear is, "I am not a coder" and "I am not a designer" often followed by "I can't afford to hire them!"
Last year I made over $1,500,000 using a free template that I grabbed from one of the many free CSS templates. No joke. It didn't matter that it was free or that I didn't have to do anything except add my own filler text. All that matters is that that it converted and converted well."
So often we get into this mindset that if we don't have the most beautiful page that we will not be able to succeed. Success really does not come from design. Success comes from your ability to optimize, test, retest, test some more, and focus on details."
Jonathan has his own blog too. He just started affiliate marketing in 2007 and by March of 2007 he was making enough money to leave his job. Now he's built a multi-million dollar per year business. In 2008 he hit over $3,000/ day – and while Affiliate Marketers will pay for advertising to send traffic to their sites with affiliate ads because the cost/benefit is unbelieveable – Domainers have a leg up, because if you own a category-killer you already have targeted traffic.
What are Jonathan's Secrets?
Well, according to his About Page:
So what are my secrets? I once read a quote from the owner of Godaddy. He was talking about how he watches all his numbers (sales) closely. He said, "All things that are watched will naturally increase." And I find this very true with internet marketing.
Watch each and every number, use tracking, and above all else, don't give up.
Becoming successful is a work in progress
There are lots of opportunities for Domainers. You might have a mix of good and bad domains on paper as a Domainer – but it doesn't mean you can't turn those bad domains into cash if no one is interested in buying them.
We're still learning from domainers and affiliate marketer bloggers who share their experiences and like to help others.