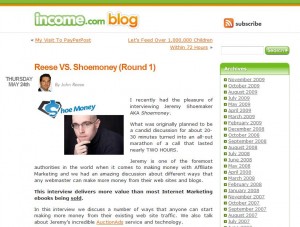 The best advice we have found doesn't come from studying the habits or trackrecords of Big time domainers who became successful during the domain landrush of the 90s and early 2000s.
It doesn't come from Domainers with huge category-killer portfolios. Where does it come from?
Affiliate and Internet Marketers Hold the Most Influence for New Domainers on a Budget
While we regularly read dozens of Domainer blogs, we've been reading more closely the blogs of Internet and Affiliate marketers. If you listened to Big Time domainers and asked their advice about getting into the industry, you could easily be waiting 5 years, or 10 years or longer before you could save enough to get into the game.
Do you really believe Search Traffic is pointless? Are Minisites pointless? Of COURSE NOT. Are you kidding us? These are the staple of building a successful business these days especially if you're on a shoestring. And for any Domainer who plans to build out their names (the good and the bad), search traffic and development (even with a minisite) are some of the KEY ingredients to getting momentum.
Are Domain Conferences Really for Small Time Domainers?
We've never attended a TRAFFIC conference or any other domain conference, as we run things on a limited budget – but chances are if we had the money, we'd probably attend an Affiliate Convention or other conference for ENTREPRENEURS. We're excited about reading the online reports of the Affiliate Convention by Bruce Marler and Morgan Linton – as those conferences potentially offer the most benefit for new entrepreneurs.
Even the coveted TRAFFIC Conferences don't look to attract domainers trying to make it in the Domain industry. If you're making $1,000 per month profit as a Domainer – FORGET about attending.  As Rick Schwartz says about domainers who earn just $1,000 per month,
 "They don't make you money, they COST you money by wasting YOUR time with folks that can't do a damn thing for you."
Fair enough.
Rick is a blunt person and doesn't pull punches. But actually Rick is doing many of us a favor by letting us know there's nothing for bootstrap domainers to learn at a TRAFFIC conference. So now we're not wasting our money or our time.
At the end of the day, how much you can really learn by listening to the same people every year or every few months? Networking in any industry is great, but if you're starting from the bottom – the best place to network might be with those who are energetic and extremely successful – and who can share stories of what they did right and what they did wrong.
Learn from those type of people who are constantly making money with new ideas, you'll be better off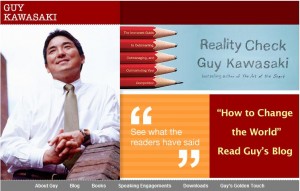 There's only so much you learn by looking at the sales of Big Time Domainers. It's when you look past the fact they own category-killers – and look to domainers at your own level and AFFILIATE/INTERNET MARKETERS that you can really start learning — at least that's been our experience.
The Most Influential Marketers
Invesp published their Top 10 Most Influential Marketers of 2008 and these people are wonderful resources. Why? These people offer tangible proof of how they succeeded. The list includes Darren Rowse of Problogger and Aaron Wall of SEOBook. The list goes on and on. Some of our favorite reads are Shoemoney.com and JohnChow.com. And of course other domainers struggling each and every day with limited resources to make things happen. Invesp is putting together the 2009 list, and it'll be a great resource if you're looking to learn from the BEST of those who are blazing trails today and who share concrete lessons.
Domaining, still one of the most exciting industries, even if you're hand-registering domains
If we had $1MM – we're not even sure we'd invest it in domain names -but starting from the bottom, this is certainly one of the most promising industries even long after the nineties. But if you had $2,000 to spend, which is several months worth of budget for small time domainers like ourselves – would you rather spend it so you could listen to Domainers talk about owning Money.com and God.com – or would you rather spend it learning from those who offer benefits that you can take back with you and apply.
Have you ever read WebTrafficROI – a web marketing blog aimed at people passionate about their web business? ZK, the author, offers FREE resources. Take a look at any of the recent entries and you'll see for yourself.
When you can learn from those who take a domain name like text-link-ads.com or AllTop.com and turn into a successful business with very little investment, why would listen to those who tell you it can't be done unless you own a category killer?