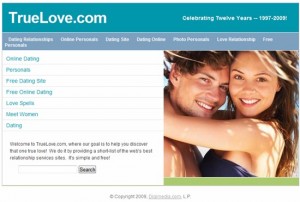 UPDATE:  Francois from Domaining.com has provided an update regarding the TrueLove.com listing today.  Apparently, BargainDomains.com has quite a bunch of users who try to scam and submit domain names they don't own – and Francois is doing his best to prevent this from occurring.  Francois writes, "Another scammer from one of these emerging countries… I deleted a dozen of such accounts these past 21 weeks. At a point I am seriously considering asking a no refundable membership fee to can list names for sale.  This I hope should seriously refrain these poor and stupid guys."
It's hard to believe Digimedia, which owns internet properties like FantasyFootball.com, Shops.com, Thanksgiving.com, Cards.com and more is putting up names for sale at Bargain prices – but if you monitor the listings at BargainDomains.com – Digimedia has listed a domain name with a low starting bid of just $2,500.
Even in the unpredictable aftermarket world of expiring domains where owners sometimes accidentally forget to renew a name, it's hard to believe a Dating domain like this one would be listed – but look for yourselves.  It's there on BargainDomains.com.
Wondering which domain name?
The name is TrueLove.com. 
And in the competitive world of online dating, this is a great name for branding a business and website.  The keyword "true love" had an exact global monthly search volume of almost a quarter of a million in April.
Is Digimedia selling off names?
 
The same week CamRoulette.com sold for a whopping $151,000 – Sofas.com owned by Digimedia sold for $231,500 via RickLatona.com.  Both those sales occurred early April with the domain Sofas.com still owned by Digimedia today.
Whatever the case, Scott Day and Digimedia appear to be selling some of the properties that may not be core to their growing enterprise and a starting bid of $2,500 for TrueLove.com shows Digimedia knows it'll sell for far much more.