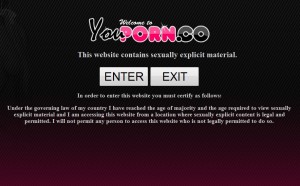 Porn.co, a web address that has been enjoying type in traffic for months, has launched a web site branded as YouPorn.co.  Taking advantage of .com websites of the same name.
Porn.com and YouPorn.com are popular online adult destinations.  YouPorn.com has an Alexa Traffic rank of 67, making it one of the Top 100 sites on the web today.
In 2007, the domain name Porn.com sold for $9.5 million, in a deal brokered by Moniker.  The domain Porn.com was purchased by Detroit-based MXN Ltd., in a transaction that was covered by several news outlets because of the big ticket price.  
The website Porn.com receives monthly traffic in the millions.
The owner of Porn.co, also owns names like Xvideos.co.  Xvideos.com is another Top 100 website on the net, even ahead of YouPorn.com.