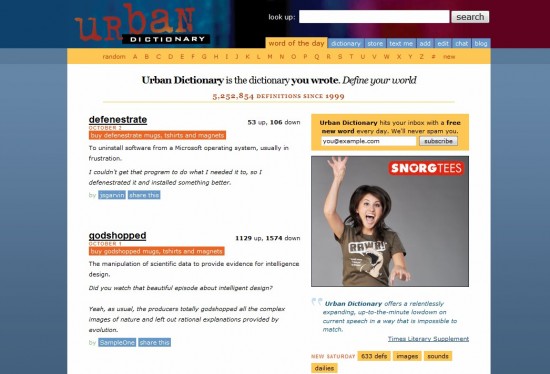 Urban Dictionary, the online dictionary of slang words and phrases, has over 5 million definitions to date which are posted and defined by readers.   Visit the web site on any given day, and you'll find hot new terms like "Career Veneer" and "Airport Vultures" rated by thousands of Urban Dictionary's readers.  Both phrases have been "voted up" over 5000 times by readers, and both phrases (careerveneer.com) and (airportvultures.com) are available for hand registration at registrars like GoDaddy.
But with millions of words and phrases listed, and even more readers who visit the web site every month, could any of the terms be the next big thing for domain investors?
According to Wikipedia:
As of April 2009, an average of 2,000 are submitted every day; the site receives approximately 15 million unique visitors per month, with 80% of users being younger than 25.As of March 2010, Urban Dictionary's Alexa rating is 702, with a rating of 323 in the United States and 18,881 sites linking in." 
Domain speculators love to brainstorm new ideas for domain names, and there are plenty of services online to help potential buyers generate available names.  But speculating can be very risky, especially as the price of registrations is on the rise.  
New trends like ChatRoulette have shown, that it is still possible to register domain names and make a huge profit, as the case with CamRoulette.com which sold for over $100,000 in 2010. 
Pigeon Shit Domains
The biggest challenge for some, is staying on top of the trends and not spending  all their money on piles of domain names that turn out to be nothing more than "pigeon shit" — a term coined by Rick Schwartz, one of the most successful domain investors of all-time, describing the worthless domain names that people buy that have no potential for re-sale.
Rick's honest straightforward advice that he has been posting lately on his blog, is a "must read", providing insight into buying and selling domain names and information on getting started in the domain industry.
While Urban Dictionary does define "pigeon shit", no one in the Domain Industry has added a definition relevant to domains. 
Urban Dictionary could hold the next set of valuable domain names, but before registering dozens or even hundreds of available terms like CareerVeneer.com, make sure you do your research so your portfolio isn't full of "pigeon shit".