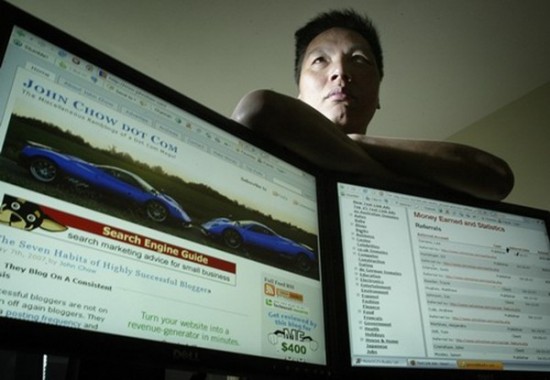 GoDaddy, the world's largest domain name registrar, has made the naughty list of one of the world's largest internet marketers, John Chow. 
According to a post on John Chow's website titled GoDaddy Is On My Shit List, GoDaddy sent John Chow an email yesterday stating the Whois information for JohnChow.com was incorrect and needed to be updated. 
Dear John Chow,

Please consider this message as official notification that the contact information provided for the domain name registration for johnchow.com appears to be invalid, or incomplete. Please update the information within 5 business days as per Section 3 of the Registration Agreement, which you agreed to at the time you registered your domain name.
Despite having five days to correct the Whois information, GoDaddy mistakenly disabled the domain, then re-directed the web address to a GoDaddy page stating the web address had been re-directed.  
The blunder caused John Chow's web site (which is the bread and butter of his business) to be down for a full day.  While that may not be a big deal for many bloggers, last year John Chow's blog reportedly pulled in over $500,000.  So naturally any downtime is a big deal. 
After posting the story, John Chow's readers chimed in with advice on avenues of recourse ranging from tweeting Bob Parsons to switching registrars, to recovering lost revenue to a lawsuit.
While a mistake like this for many wouldn't be that big of deal, when your blog is raking in over $500,000/year the magnitude is much larger.
Bloggers/Webmasters, how would you handle this with your registrar?
Image source: JohnChow.com