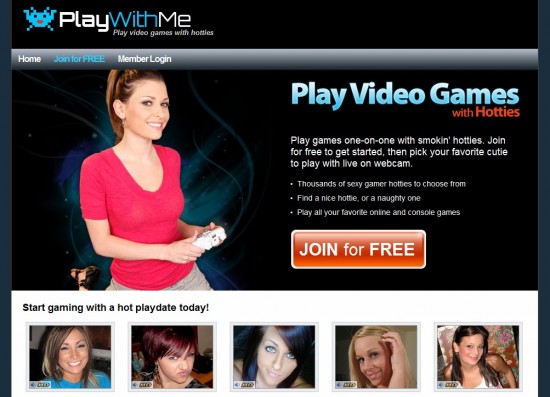 PlaywithMe.com, the domain name that sold for $15,000 USD to PlayTime Gaming, Inc. in early November, has launched a videogaming site of sorts.  The Playwithme website allows you to play games one-on-one with what they call, smokin' hotties or playdates.
Evidently, playdates themselves can also sign up to earn money as 'smokin' hotties'.  According to PlaywithMe: as a playdate, you'll get to do what you love – play video games for hours upon hours – while making some great money in the process. You can even set your own schedule, working as much or as little as you want! All you need to get started is a computer, internet connection and of course – some video game skills.
Part of the FriendFinder Network
It's not a big surprise to see PlaywithMe.com turn out to be a  more adult-oriented website, than a game-oriented website.  As I wrote back in November, the web address re-directed to Cams.com.  Back in the nineties, playwithme.com was an adult site as well.
PlayTime Gaming, Inc. the owners of PlaywithMe.com, also hand registered the domain name Playwithmegamers.com on Dec. 9.  The group which is based in Sunnyvale, is part of FriendFinder Networks Inc. a leading Internet-based social networking and multimedia entertainment company operating several of the most heavily-trafficked websites in the world – like FriendFinder.com.  FFN according to its statistics page, has 30,000+ sites in its network.