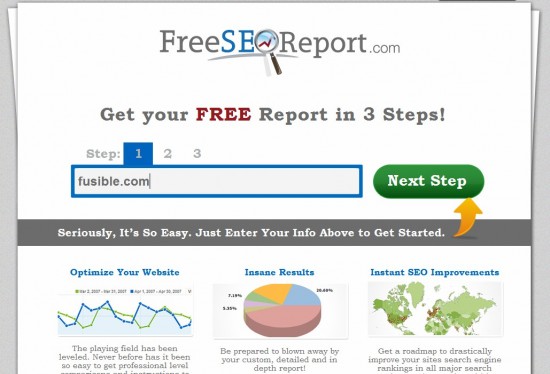 If you hadn't noticed by the lack of posting on his blog, Jeremy Schoemaker of Shoe Money has been busy the last several months with another marketing trick up his sleeve – this time with the launch of FreeSEOReport.com, a service that promises to give you free a professional level SEO report on how to optimize your website like a pro.
Last Thursday, Jeremy announced the launch of the free service through his blog over at Shoe Money.
The idea came to Jeremey about six months ago.  Using the model of freecreditreport.com, freeseoreport.com works along the same lines.  In a three-step process, you provide your web address, keywords, and like any good affiliate marketer would ask of you, your email.  Within minutes, a full featured, free, fully enabled, SEO report is provided online.  
How does the site make money? 
Jeremy is upfront on the revenue model: "once we get you addicted to the crack we charge $10 per report or unlimited reports for $19.95 a month."
How'd the idea come about?
On his blog, Jeremy says:
While I can share with you what has worked for me, you could be in a completely different market. My advice to you from my experience in how I dominate in the ringtone vertical and make thousands of dollars a day off of sites I have not touched for 4+ years, most likely will not help you probably will not really help you if your in… say… the travel business, or teeth whitening, or whatever vertical other vertical.

So one day about 6 months ago I had a bit of an epiphany.

What if we created a free service that would do this for you?

A simple, easy to use service that would look at your site and the keyword you want to rank for, then look at ALL the top sites currently ranking for your keyword (for every search engine known to man), then tell you, from facts (not theory), exactly the difference between what they were doing and what you were doing?
Results of Free SEO Report Launch
I ran my blog (www.militarygamer.com), a site I recently launched focusing on military video games, through the Free SEO Report tool.  
I'm pretty new to SEO, so I'm not ashamed to say I was curious to see the results (as long as I wasn't paying for the analysis, which I didn't).  And since I'm not an SEO Pro, I really can't say whether the results are professional-level, but I'll share some of the information I got from the free report.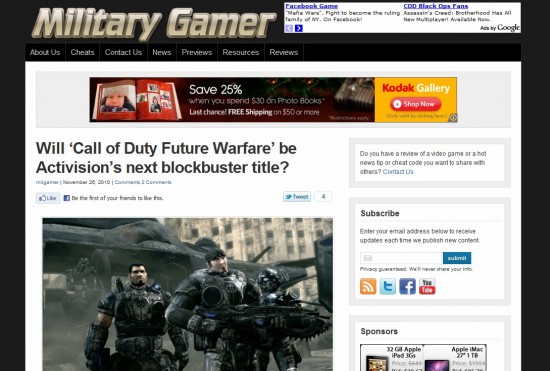 The results are fairly comprehensive.
URL: http://militarygamer.com
Analyzed search term: military video games
Country: United States
Search Engine: Google
Started: December 12, 2010 1:23 pm
The report gives you a competition summary.  For example, the average PageRank for militarygamer's competition when it comes to "military video games" is 2.7, while militarygamer is 1.
Domain Age (in years) for the competition is 10.2, while militarygamer is 8.2.
The report breaks down Document title, headings, body text, sitemap and robots, meta description, links, html code, images, meta keywords, and the all important URL.
My particular report was over 35 pages.
If you're starting to build a site, it's definitely a helpful start.  SEO can be intimidating, but with this report you can at least see how your competition is beating you.  Best of all, it's free.
According to Jeremy's latest posting, his new service is a hit.
Confirmed users: 4507
Waiting for email confirmation: 180
Total number of reports: 13,298
Completed reports: 13,296
"Free Credit Report" Domains
Freecreditreport.com has had its share of success over the years, and spawned copy cats in a number of different verticals.
The model put "Free Report" domains in demand, too.
freecreditreport.co.uk sold in Oct. 2008 for $300,000 along with freecreditreports.co.uk for $70,000.
freecreditreports.net sold for $30,000 in 2009 via Moniker.