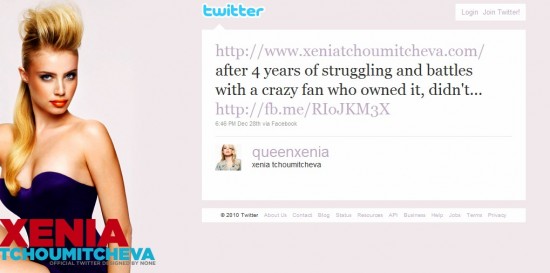 Swiss Model and actress Xenia Tchoumitcheva whose official website ran on xeniaonline.com and xeniatchoumitcheva.ch, now has a new home for 2011: xeniatchoumitcheva.com – a web address that reportedly cost her $27,000 Euro (or $36,107 according to the latest currency conversion).
Apparently, she struggled for many years to get the .com web address, finally deciding to pay for the name instead of giving UDRP a shot.   The .com had been owned by a "crazy fan" as she says, who had a website online displaying photos and videos of the model.
She posted a message on her Twitter and Facebook pages earlier this week. 
According to Wikipedia: "Tchoumitcheva entered the national "Miss Switzerland" pagent in 2006. Tchoumitcheva was judged as both 1st runner-up and Miss Photogenic. After the contest she was considered the "most eligible single woman in Switzerland" and in May 2009 she has been elected as the Best Bikini Body, according to a survey by the magazine Schweizer Illustrierte."
Perhaps, Xenia.com was too expensive, but not surprisingly it may have been a better choice for web surfers prone to typos. 
Xenia.com is currently parked at Enom and registered to "Softline Studios".
As noted in Wikipedia, back in May, Xenia released a video with Swiss singer Paolo Meneguzzi.  The sexy, racy YouTube version has over 1,000,000 views.