Finishing at #50 in the 2010 Top 100 Domain Sales, camroulette.com has been one of the biggest domain name success stories of recent years.  Purchased for less than $1,500 by Adam Strong, the domain name cashed in on the "chat roulette" craze and sold at the Domain Madness 2 auction in March 2010 for a whopping $151,000. 
After having its own website online for months, today, camroulette.com re-directs to a subfolder on CamsNetwork, an adult video chat hosting service.  Since acquiring the name, CamsNetwork launched a ChatRoulette-like website for people looking to view adult material and chat about sex.
History
Chatroulette craze
To understand the story of camroulette.com, you have to understand the story of chatroulette.com and Andrey Ternovskiy.
In November 2009, the Chatroulette website that was created by then 17-year old Russian high school student Andrey Ternovskiy, went online.  The website connected random strangers through their computer's webcams.  By March 2010, the website had been featured in a series of articles by several popular news publications and blogs like the New York Times and traffic to the site had increased to nearly 2,000,000 visitors per month according to a rough estimate by Compete.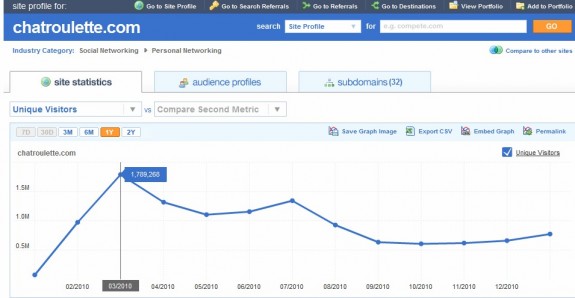 The domain name chatroulette.com was first registered on Nov. 16, 2009. 
Camroulette.com Domain
A month after the web address chatroulette.com was registered, Craig Snyder registered the domain name camroulette.com on Dec. 12, 2009 — long before the popularity of Chatroulette would set off a frenzy of Chatroulette clones and domain registrations with the word "roulette" in the name.
Craig Snyder posted a message online under the username Hyphen which appeared on a NamePros forum, "I hand-registered CamRoulette.com @ Dynadot on December 12th, the day I heard about ChatRoulette. My original idea was to recreate a clone site, but that fell off." 
Craig, who is often mistaken for the Craig Snyder of Oversee.net (who serves as General Manager of Registrar and Aftermarket Division), then started receiving offers on the domain.
In February 2010, Adam Strong (founder of Domain Name News), purchased the domain name from Craig Snyder for $1,400.
Domain Madness 2 Auction
On March 23 2010, Mike Fiol and Adam Strong hosted an auction of domain names in the Domain Madness 2 auction.   Though 76 domain names were put on the auction block, only a handful were sold, including camroulette.com. 
The results of the auction, were publicly released by several domain news sites and blogs.   Sitting atop the sales, was camroulette.com for $151,000.
CamRoulette.com            $151,000
SecurityGuards.com         $20,000
PalmSpringsHomes.com    $14,000
PokerCaddy.com             $5,000
VideoRoulette.com         $5,000
FootballUniforms.com      $2,500
InternetHistory.com        $2,500
LumberStore.com           $2,000
FamilyClinic.com              $2,000
TaxTool.com                 $1500
RacingStats.com            $1,100
FreeHosting.org             $1,000
JigsawPuzzles.net           $775
DrumForum.com            $335
LoanAdjustor.com          $275
PoolShowers.com           $151
DoingAnything.com         $151
GymnasticsShoes.com      $101
MessagingRecliners.com    $151
PortablePuttingGreen.com    $51
BrooklynCondominium.com    $102
Reaction
Though many (including myself) were in shock and disbelief, the sale occurred, and internet entrepreneur and savy domain investor Adam Strong had turned a $1,400 investment into a $151,000 pay day in a matter of weeks.
By April 2010, CamsNetwork had quickly launched a Chatroulette-like website for adults on the domain camroulette.com, that had a different look-and-feel compared to the website that is online today.  Below is a screen shot from the site's launch in April 2010.
While the reaction among the domain name community was one of amazement and congratulatory cheers online, Craig Snyder's reaction was filled with amazement, but also regret. 
On March 25, 2010, Craig posted a message on a NamePros discussion thread that had announced the sale of the domain at auction.
I highly doubt anyone here is going to believe me and I don't know why I want to embarrass myself like this when I've posted on another forum claiming it wouldn't be mentioned outside, but I hand-registered CamRoulette.com @ Dynadot on December 12th, the day I heard about ChatRoulette. My original idea was to recreate a clone site, but that fell off. Months passed and nothing happened. On the same day I received about 3 offers for the domain, ranging from $400-$1200. I talked a bid up to $1400 and I sold the domain. A month later the guy I sold it to sold that domain for $151,000. That's going to be a life lesson.

I'm a 20 year-old affiliate marketer and that was my first dabble in the domain game. I had no idea something like that could happen and it is extremely hurtful and depressing to look back on it, I thought nothing could have really come of the domain. That's an amazing sale by Adam and although I do regret this more than almost anything in my life, it gives me a little bit of hope.
Legal Problems
As Craig stated in the NamePros thread, he had received about 3 offers for the domain, ranging from $400-$1200.  He eventually sold the domain to Adam Strong for $1,400.
However, "regret" would end up being the least of Craig Snyder's problems. 
As Domain Name Wire reported on May 31, 2010, Craig Snyder was being sued.  "Another person says he had an agreement to buy the domain name for $700. He's suing for $150,300, the difference between what he offered to buy the domain for and what it sold for at auction.", wrote Andrew Allemann. 
To add to the drama, the company that filed the complaint (PDF), FRASER DB, Inc. apparently thought Craig Snyder (the original registrant of the name), was the same Craig Snyder of Oversee.net. 
In August 2010, the lawsuit was settled, but terms of the settlement were not disclosed.
Chatroulette craze and domain names
Camroulette.com selling for $151,000 was certainly the domain name success story of 2010.  But camroulette.com, wouldn't be the only domain name with the keyword "roulette" in the name that would benefit off the popularity of Chatroulette.
In May 2010, Sedo reported the sale of PornRoulette.com for $11,251 USD.  GuyRoulette.com also sold on Sedo for $1,500.
Francis King
As reported on Fusible, one of the more common typos of Chatroulette — ChatRoullete.com — reported nearly 18,000 unique visitors in March 2010.  The owner of the name, Ho Nim based in Shanghai, according to Registrant records owns nearly 200,000 domain names.
But Ho Nim wasn't the only person who had registered Chatroulette typos, a person by the name of Francis King was buying typos.  ChatRoulett.com, Chatrulette.com, chatrolette.com, and others – including ChatRoulette.net.
Webcamroulette.com, another big domain sale
In June 2010, WebcamRoulette.com sold for $47,000 at the Moniker /iGaming auction, as reported by DN  Journal.
By October 2010, the new owners of webcamroulette.com, launched their own adult chat video website. (screen shot below, Oct. 2010).
Craig Snyder
Craig Snyder, the original registrant of camroulette.com, launched a blog in early March 2011, on the web address: workfortheinternet.com. 
On March 9th, 2011, Craig published a detailed story (now password protected) about the domain name and the legal and financial problems that surrounded the lawsuit.
Andrew Allemann of Domain Name Wire, posted an article about the story:
As he describes in a detailed post today about the entire situation, he was truly overwhelmed.

The first two lawyers he talked to weren't very helpful. (In his mind they weren't very accurate, either).

And then he found someone who he says he nearly has a man-crush on. That person helped him get from the idea of filing for bankruptcy to a tenable settlement.

It's a long post, but very much worth the read.
Unfortunately, as what Andrew had suspected might happen, Craig took down the story, and made it private instead of  public.
There will likely be more to this interesting story in the near future.
Readers: If you have news or information you'd like to share about camroulette.com and the story behind it, please use the Comments or contact us.