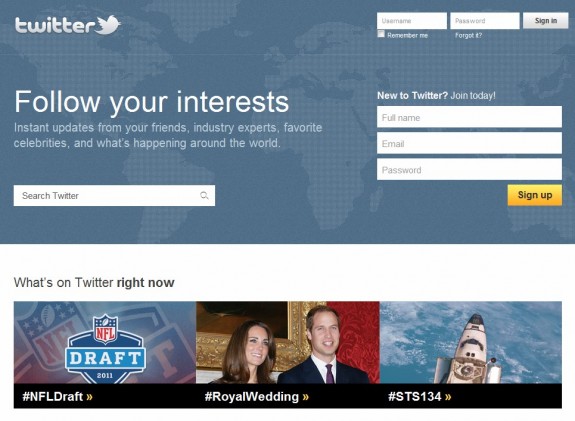 When I was writing about sex.com (the world's most expensive domain name) being back on Twitter, I stumbled across a Twitter username pseudo-dropcatching service called TweetClaims that has had some success at helping people get some of the most sought after Twitter web addresses like @beer. 
Beer.com happens to be one of the top 10 most expensive domain names in the world at $7,000,000, but it wasn't the owner of Beer.com who got the Twitter username @beer, it was self-proclaimed web & domain guy Les Porter who re-registered the username after it became available again late last month on March 25. 
A day later on March 26, Les thanked Tweetclaims publicly on Twitter for helping him secure the username.
[blackbirdpie url=http://twitter.com/#!/beer/status/51837123061481472]
The service, which is celebrating its one year anniversary this week has found 3,296 names in 29,386 requests for 7,745 users since April 21, 2010, according to its website.
It has also has garnered press coverage from some of the biggest news sites and technology blogs including ReadWriteWeb, Twit.tv, and Wired which had this to say about the company's beginnings: "Luke Woodward, was frustrated finding the right name for his upcoming startup, finding that "the names I want are created by people who haven't tweeted since 2007, if at all." Discovering that Twitter was going to begin releasing inactive accounts by simply making them available to register, he had the idea to start a service that would check Twitter on a regular basis for the names he wanted — and then decided to make the service available to others as well. 
Luke Woodward told the story of how Tweetclaims got started in more detail on his personal blog.
Twitter regularly releases suspended and deleted usernames, but unlike domain names that can be backordered, Twitter and sites like Facebook don't necessarily uthorize the selling of vanity URLs.
How does it all work?
While Tweetclaims is an automated system, it doesn't automatically re-register usernames that become available, but what it can do is check to see if the names you're interested in are available.  The site offers a free account that allows you to immediately check up to 10 Twitter usernames to see if they're available, or upgrade to a paid service that monitors up to 20 names every 30 minutes and among other things, notifies you when a name becomes available. 
I'd imagine that with social networking sites like Twitter and Facebook growing more and more each day, that vanity username monitoring services will continue to spring up as dropcatching and monitoring services for domain names have for years.
While Tweetclaims boasts about the number of usernames it has helped people find, it doesn't highlight all the category-killer usernames like @beer on its website.  However, if you scour the site's Twitter account, past messages indicate some of the finds also include @autos and @gerald.
[UPDATE Apr. 29th, 2011:  Les Porter said in the comments, that he has seen other names released including  @stocks, @YoYo, @Lake, @Panthers, @startup, @web & more.]
Readers, have you had luck securing a category-killer Twitter username on your own? Share it in the comments.