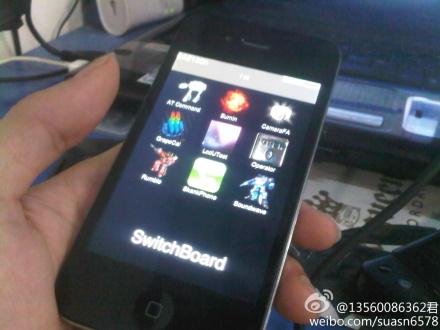 [Updated, Nov. 3:  Apple has now filed a complaint (Case D2011-1897) with the World Intellectual Property Organization. While it's no surprise Apple wants the name, it's a wonder it took so long, considering the adult content posted to its website.  The complaint involves the following domains: iphonecamforce.com, iphonecam4s.com, iphoneporn4s.com, iphonesex4s.com, iphonexxxforce.com, iphone4s.com and porn4iphones.com]
**
BGR claims to have new information from an incredibly solid source about the next gen iPhone.  The news is making the rounds on the internet today. 
Part of the rumor is that the current iPhone 4 may have an upgrade called the iPhone 4S.  Compounding all the iPhone rumors is a leaked photo of a rumored iPhone 4GS that turned up on Weibo, China's Twitter service (shown above) earlier in the week. 
Mac Rumors writes, "The images claim to be of an "iPhone 4GS" test model running iOS 4.0. The unit appears to be identical to the iPhone 4 with a reported 5 megapixel camera based on the diagnostic software."
If the rumor mill is right about the iPhone 4S device though, Apple (who only recently acquired iPhone4.com as first reported here) may want to act quickly to somehow acquire the domain name iPhone4S.com.  At the time of this post, iPhone4S.com, redirects users to an adult site (NSFW) called: Free Naughty for Mobile.
Apple also doesn't own iPhone3GS.com, iPhone4GS.com, or iPhone5.com.
Regardless of whether Apple calls one of its devices the iPhone 4S or not, chances are unsuspecting people looking for a website where they can purchase an iPhone 4, likely stumble across the adult site when typing in the plural.
iPhone4S.com is currently hidden behind Whois Privacy provided by Moniker.
Here's a look at a screen shot of the web site (adult content removed), along with the web address where iPhone4S.com goes.
(WARNING: If you type in the web address, you will be taken to adult content).
Discussion: The Huffington Post