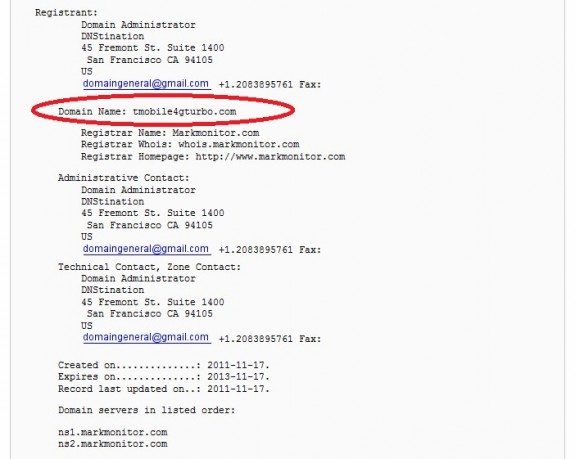 On November 17, T-Mobile registered a slew of '4G Turbo' domain names through the interent brand protection company MarkMonitor.
The domains ranged from .com to .biz and included domains like 4gturbo.org and Tmobile4GTurbo.com.
As is often the practice by large companies that use MarkMonitor, the names were registered to DNstination Inc., the WHOIS privacy service provided by MarkMonitor.  Given MarkMonitor's purpose to provide brand protection services to more than half the Fortune 100 companies, it's safe to say these names belong to T-Mobile.
Here's a look at several of the names that were registered.
4gturbo.biz
4gturbo.org
4gturbo.us
t-mobile4gturbo.com
t-mobile4gturbo.net
t-mobile4gturbo.biz
t-mobile4gturbo.org
t-mobile4gturbo.us
tmobile4gturbo.com
tmobile4gturbo.net
tmobile4gturbo.biz
tmobile4gturbo.org
tmobile4gturbo.us
T-Mobile launched their 4G Mobile HotSpot device last April and also recently introduced the T-Mobile Sonic 4G Mobile HotSpot. 
It's unknown whether the T-Mobile 4G Turbo will be a new hotspot device or a separate add-on for its existing devices.