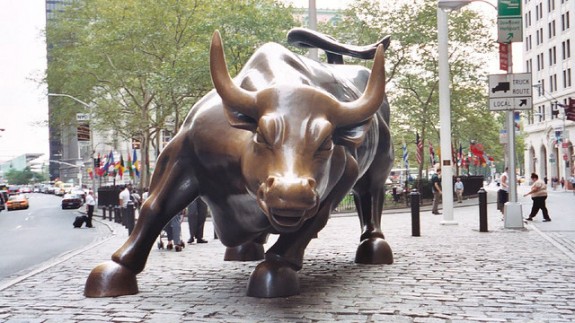 Wallstreet.com is first-ever $1 million domain, selling for $1.03MM in 1999

Financial website Wall-street.com, LLC filed the complaint with WIPO
Back in June, Wall-Street.com LLC filed a UDRP against the owner of WallStreet.com.  The complaint has now been denied by a three-member World Intellectual Property Organization panel.
WallStreet.com – which is owned by Danish businessman Marcus Kocak – was the first-ever $1 million sale, selling for $1.03 million in 1999.  The sale was brokered by Monte Cahn, founder and former President of Moniker.com.
The auction made headlines with the price surprising the seller Ehud Gavron, who told Wired magazine, "I'm shocked that this kind of value exists for a domain name, but I'm overjoyed, too."  Gavron, who was President of ACES Research, a dedicated access Internet service provider, had owned the name since 1994.
While the WallStreet.com sale of the nineties attracted attention, million dollar transactions are not so uncommon.  Since the nineties, there have been more eye-popping sales, like sex.com, the current Guinness World Record Holder for the world's most expensive domain name at $13,000,000.
Details of the Wallstreet.com WIPO decision to deny the complaint (Case Number: D2012-1193) were not immediately available.
There were no details published to the WIPO website at the time of this story, except for the decision, which was issued on September 12, 2012.
Wall-Street.com, LLC, which brought the domain name complaint, is a financial website.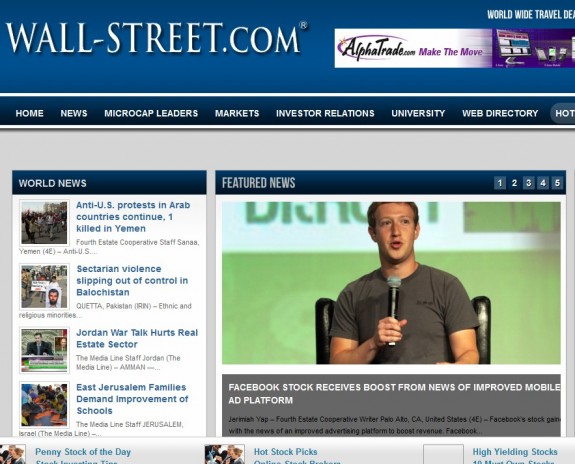 According to Wall-Street.com's "About" page, it is one of the very first financial websites on the Internet.  In October 2011, Wall-Street.com was acquired by Wall-Street Media Co.
It is entirely possible that in the event WIPO had ordered the name transferred to the complainant, Kocak's lawyers would have filed some type of court action to block the transfer.
Earlier this year, BuyDomains.com filed a federal court action in the Massachusetts District Court, after losing a domain dispute for FACI.com.
Today, Wallstreet.com directs visitors to a parked web page with NetNames, an online brand protection company.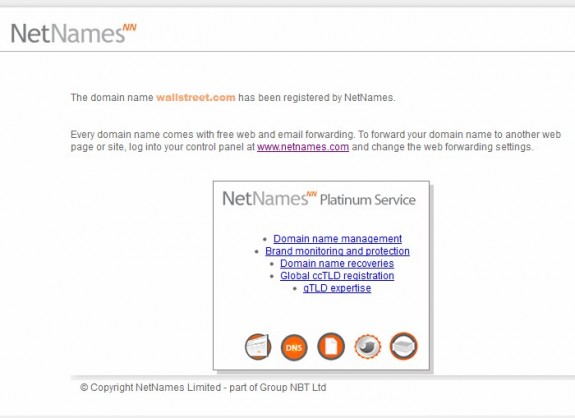 In 2007, Wallstreet.com went up for auction again at Moniker.com.
A number of journalists speculated that the domain name would fetch a sales price of over $9.5 million, topping porn.com.  The name, however, failed to sell. The highest bid of $3 million was short of the reserve price of $4 million to $5 million.
UPDATE 1 – SEP. 17, 2012:  Details of the panel's decision have been published online.
Talking about this story: NamePros
(Image of Wall Street Bull via babblingdweeb / Flickr)