Our goal at Fusible is to provide our sponsors with the best exposure possible.
Why Advertise with Fusible.com?
Fusible has a very loyal following of readers, with thousands of unique visitors per month*.  In 2012, Fusible.com had over 500,000 visits and over 700,000 page views.
Fusible is regularly mentioned in mainstream technology news outlets (more than any other domain blog) like TechCrunch, Kotaku, Engadget, Game Informer, and Techmeme.
Fusible runs one of the top Twitter accounts (@Fusible) in the tech news community, with over 50,000 Twitter followers.
*directly measured traffic statistics by Google Analytics can be provided upon request

See our Press Room to learn more about recent and past coverage.
Advertising Opportunities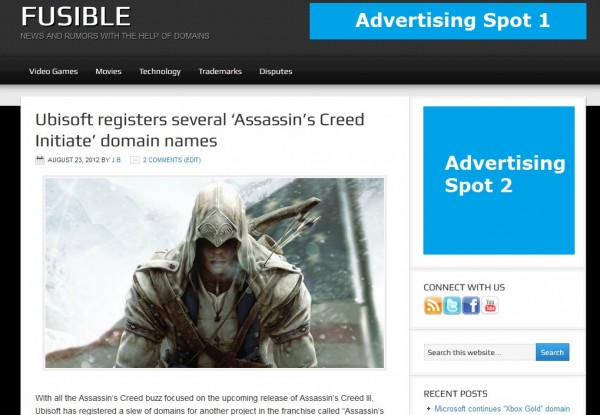 Advertising Spot 1 – Not Available
468×60 Banner, Header. Above the fold.
Sponsored until Oct. 2013.
Advertising Spot 2 – Not Available
250×250 Square, Top Sidebar. Above the fold.
Sponsored until Dec. 2013.
Advertising Spot 3 – Available
250×250 Square, Sidebar, immediately below Spot 2.  Below the fold.
Ad must be hosted by Fusible.com.  Animation is allowed, but no Flash.
Contact Information
For more detailed information on advertising rates and other available sponsorship opportunities, please use the Contact Us form or e-mail us at advertise -at- fusible.com.
Payment accepted via PayPal only.