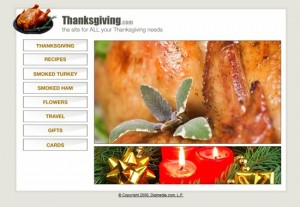 There's no shortage of category-killer domains sitting parked. Names like ThanksGiving.com are literally sitting on a goldmine, but it's not being tapped for it's SEO and Business potential.  At least not yet.  Thanksgiving.com is owned by none other than the Legenday Scott Day of Digimedia.com – who owns and operates domain names like FantasyFootball.com and Watermelon.com.
Scott is a fantastic businessman and domainer and has been developing his amazing properties for years.  We wrote a story earlier in this month about Scott Day which higlighted his company Digimedia and how they turn their domains into "places people want to go".
Are there plans to develop Thanksgiving.com? There aren't any details, but could you imagine the possibilities if this name was developed?  This is an opportunity ripe for the picking and with Scott Day, anything's possible.  And there's always time and ways to get a category-killer right back on Page 1 of Google.  Kevin Ham who let BlackFriday.com sit parked for years, finally developed the site this year and despite stiff competition BlackFriday.com ranks on Page 1 of Google already.
You can't blame Scott Day for not developing Thanksgiving.com, after all he's got a bunch of sites online running as businesses and more projects in the works – all with moneymaking potential.
How well do Thanksgiving Domains Fare on Google Search?
We're surprised, but no one has developed really any of the top-level Thanksgiving domains into Search Egnine powerhouses.  Take a look at the results from Page 1 of Google for the keyword Thanksgiving.  Page 1 includes Wikipedia, History.com, and others – but not a single result listed has Thanksgiving in the actual registered domain name. 
You'll notice Holidays.net in Page 1 of Google though for "Thanksgiving" and they've definitely capitalized on more than just the Thanksgiving holiday with visitors well over 100,000 per month.  And they not only show up on Page 1 of Google for Thanksgiving – if you type in "Thanksgiving", "Christmas", "Halloween" or "Days of the Dead" they appear on Page 1 of Google, too.  Not bad for what some might call an "ugly site".  Googlebot doesn't really care what you look like, as long as your site is properly SEO'd and has tons of unique and fresh relevant content.
What are the Other Thanksgiving Domains doing this Holiday season?
Thanksgiving.net – Parked

Thanksgiving.org – The official site for Thanks-Giving Square in Dallas, Texas.  Shows up on Page 2 of Google

Thanksgiving.info – A website is online, but you'll need to search far to find it in Google Search results. 

Thanksgiving.me – Parked

Thanksgiving.biz – Unresolved
Are you developing your names?
As much as we'd love to own a category-killer name like Thanksgiving.com, we'll never have the cash so we'll just keep researching, hand-registering names, buying names on the drop, and plugging away at development.  It's what we love to do and it's fun. And we'll continue to develop our own names on long-tailed names and alternate extensions.   Not everyone can afford a category-killer name these days, but everyone can certainly try to build a successful business with a little sweat and tears, even on alternate extensions.
If you don't know the story of Bruce Marler, it's fascinating.  He's building an enterprise on LocalTek and is building out domain names like Missouri.ME into businesses.  And if you've taken a look at traffic to that site, it's been climbing into the thousands since it's launch.
Opportunities are everywhere, especially when you're willing to take risks and try new things that others say can't be done.