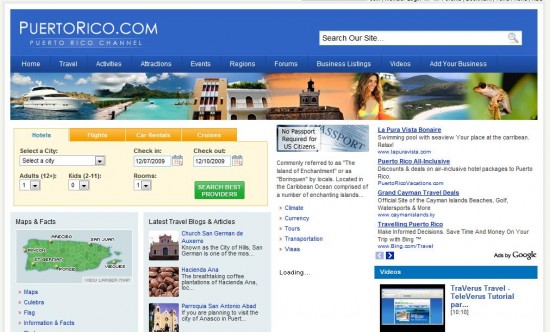 As we reported early yesterday morning, Sedo brokered the deal of Russia.com for $1.5 million dollars.  NewMedia Holdings, the sellers of the domain name own an impressive portfolio of domain names with a focus on geo domain names ranging from PuertoRico.com to Scotland.com. 
NewMedia uses a Turnkey Travel Site Platform for their Geo Domains
The same framework is used on all of their geodomains – a framework that you can use to get your geodomains up and running for a cost.  According to NewMedia's Web Consultancy at Paley Media,
Each of the Country Domains appearing on this site were created and are managed by Paley Media using our technology platform.

Our technology platform is supported by a proprietary content management system that combines industry standard web publishing software with server side tools. This solution provides our customers with full control over the design, structure and interactive functionality of thier travel sites.

Our turnkey platform includes the following features:

◦A Fully Integrated Booking Widget;
◦Advertising and Banner Managment Administration;
◦Server and Project Administration;
◦Unified Member Registration;
◦Hotel and Establishments Directory;
and
◦Traffic and Web Site Analysis. 
NewMedia Uses WordPress, Too, for Sites
Like Birds.com and Autoracing.com
Keeping it simple, NewMedia also uses WordPress as a solution for most of their non-geo domain names like, Birds.com, AutoRacing.com, and Airplanes. 
NewMedia Holdings' Notable Properties
NewMedia's properties include:
Airplanes.com
Algeria.com
Autoracing.com
Bangladesh.com
Birds.com
ChinaTrade.com
Ecuador.com
HorseRacing.com
Morocco.com
Musicians.com
Nepal.com
Nicaragua.com
PuertoRico.com
Scotland.com
Snowskiing.com
SouthAfrica.com
StockMarkets.com
Ukraine.com
VirtualCountries.com