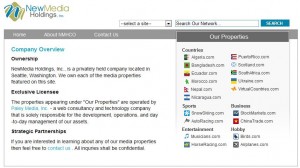 In a deal that puts it in the Top 10 sales of 2009, Sedo has brokered the sale of the domain name Russia.com for $1.5 million.
It looks like NewMedia Holdings has sold the name, a name they have owned and operated since 1995.  They also own some other category-killer properties including: StockMarkets.com, Musicians.com, Puerto Rico.com, Scotland.com, Birds.com and many more.
Whether or not the website was included in the deal, isn't known.  But compared to previous Geo sales like Korea.com which sold for $5 million – this is a steal for the new owner.
New Owner Reported to be Russia Standard, Same Buyers of Vodka.com
The new owner is rumored to be Russia Standard according to one of our readers. Russia Standard is the same company that purchased Vodka.com in 2006 for $3 million (also brokered through Sedo).
The registrant information is currently set to Sedo's Transfer Service, while the nameservers still point to NewMedia Holdings' nameservers at RackSpace – that hosts several of their other names like Algeria.com, SouthAfrica.com, and AutoRacing.com.
About New Media Holdings
In case you're wondering about NewMedia Holdings (the seller), they own some of the world's best internet properties.
NewMedia Holdings, Inc., owns a diverse network of niche media properties comprised of some of the world's most unique and visible online brands.

Our publications span a range of subjects such as destination and travel guides, sporting events, music, finance, entertainment, and enthusiast activities. Each month our publication are read by many hundreds of thousands of targeted consumers and audiences located both domestically and abroad.

NewMedia Holdings, Inc., is a privately held company located in Seattle, Washington. We own each of the media properties featured on this site.

The properties appearing under "Our Properties" are operated by Paley Media, Inc. – a web consultancy and technology company that is solely responsible for the development, operations, and day-to-day management of our assets.
Other Notable "Russia" Domain Sales
It's hard to compare a seven figure sale other Russia domain sales, but they're sales nevertheless.
MissRussia.com sold for $50,000 in 2007 on Sedo.
RussiaImport.com sold for $4,124 in 2007 on Sedo.