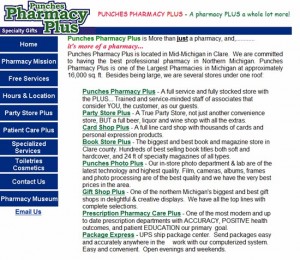 One of the largest Pharmacy and gift shops in Northern Michigan, who also got their hands on a good domain name back in the nineties, appears to be the latest "Going out of Business" victim, with a domain name that was allowed to expire, instead of being renewed. 
The domain name Punches.com expired March 16, 2010.  Going back to 1998, Punches Pharmacy Plus a local Michigan Pharmacy had a website online.  Earlier we wrote about AuctionDrop, a company that raised millions in the mid-2000s to build and market their business, only to shut their doors and let their domain name AuctionDrop.com expire.
Even though many companies go out of business for financial reasons, it's surprising to see the company pull the plug on the domain name and not even renew it.  Or for that matter, anyone who previously worked at the company snatch up the name.
The domain name Punches.com already has 44 bids over at NameJet and it doesn't even go to auction until April 20, 2010. While it's not a category killer domain name, it's got potential, especially for someone looking to cash in on Mixed Martial Arts. 
The domain, according to Valuate.com, appraises at $38,000.