GoodNews.com, appears to be Kevin Ham's latest venture to kick off 2010. The web site is Coming Soon but it works on the premise of Group Buying. Group Buying is a strategy where people connected over the internet get a better deal on pricing, when the entire group purchases the same product.
CNN.com writes, "That's the idea behind a new breed of "group buying" Web sites — at least one of which may be valued at more than $1 billion."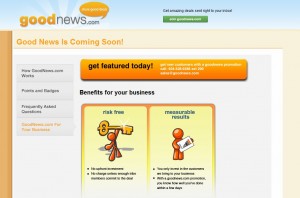 Group Buying grabbed the attention of many domain investors when HomeRun.com sold for $131,200 Moniker and the owners launched a group buying site using the domain. As we reported back in February, the concept of group buying power has been back for awhile. Site's like GroupOn have gone from about 1,000 visitors per month in June 2009 to nearly 3 million visitors per month in March 2010. HomeRun.com which has only been online a few short months hit almost 60,000 visitors in March.
Kevin Ham and Group Buying
Kevin Ham owns millions of domain names and like BlackFriday.com which he launched in 2009, he looks to take advantage of all the type in traffic by advertising GoodNews.com among his network of category-killer domains like Pajamas.com.
Elliot Silver of ElliotsBlog wrote, "A promotion like this, which will surely be seen by millions of people, would have cost another company millions of dollars to pull off. Of course, the company will certainly loose PPC revenue from people clicking away immediately rather than clicking through on the parking page links, but the sign ups they receive and revenue derived from those people will probably outweigh any lost revenue."
Group Buying in the News
Earlier this week, the San Francisco Chronicle ran a story about Group buying startup LivingSocial raising $14 million in Series C funding. The announcement came just six weeks after the company closed on a series B round worth $25 million.
With group buying sites surging, Kevin Ham has picked a business that's going to be great for his wallet.