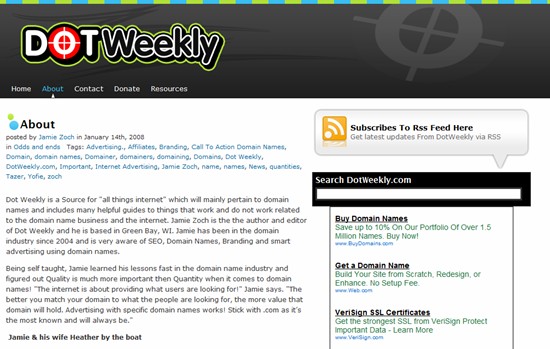 Jamie Zoch over at DotWeekly.com has announced he may be putting his website/blog up for sale.  The news comes about as Jamie says, "I would love to keep writing as I have been for the past 2.5+ years but my main business (selling domains) has slowed enough that it is getting hard to do both domaining and keep up with DotWeekly."
Jamie has worked hard to build up the DotWeekly brand, so if the right buyer is found who is looking to launch a Domain Industry blog the website will continue. 
There is no official word on whether the site will go up for sale – as Jamie indicates the word "may" in his message – but Jamie plans to start entertaining offers as well as taking suggestions from readers who might have ideas on how he can keep his blog going.
All the details about the site – including contact information and statistics can be found here.