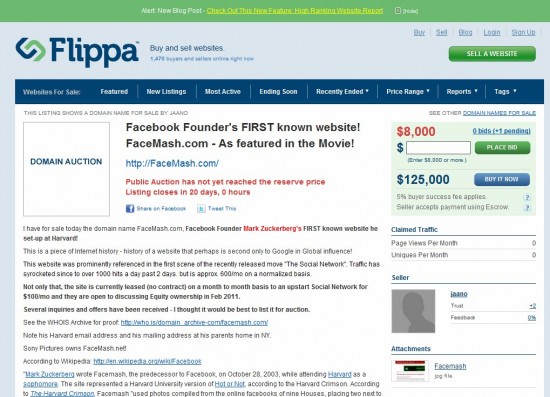 There is bunch of news coming out of sites like Mashable and TechCrunch about the sale of the domain name Facemash.com. 
The domain name is currently up for auction at Flippa. 
There has been one bid received for $10,000, which is still below the reserve price. 
The domain had previously sold on SnapNames in 2009, as one reader noted in the comments.  According to DomainTools Sales History, Facemash.com sold for only $799 on December 12, 2009.
Here's what the seller has to say about the domain name once owned by Marck Zuckerberg:
I have for sale today the domain name FaceMash.com, Facebook Founder Mark Zuckerberg's FIRST known website he set-up at Harvard!

This is a piece of Internet history – history of a website that perhaps is second only to Google in Global influence!

This website was prominently referenced in the first scene of the recently released move "The Social Network". Traffic has syrocketed since to over 1000 hits a day past 2 days. but is approx. 600/mo on a normalized basis.

Not only that, the site is currently leased (no contract) on a month to month basis to an upstart Social Network for $100/mo and they are open to discussing Equity ownership in Feb 2011.

Several inquiries and offers have been received – I thought it would be best to list it for auction.