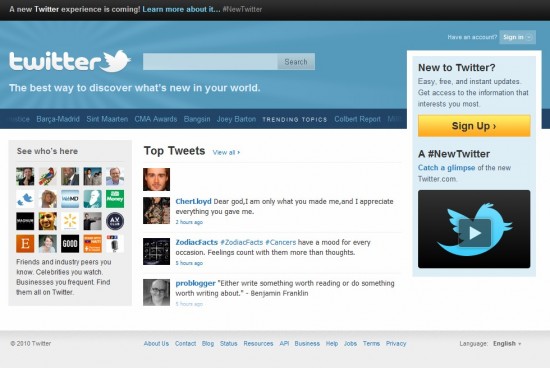 I took a peek at some of the domain names owned by Twitter whose original name for their service was twttr, a name it still owns to this day.  Twttr.com, like many of Twitter's domain holdings re-directs to Twitter.com.
These days alot of individuals and companies are hoping to start the next big Twitter third-party application or web site and many like to use relevant domains with the word 'tweet' or 'twit'. 
But what about Twitter?  The company seems to miss out on a lot of domain names related to their offerings, such as PromotedTweets.com. 
So what are some of the domain names the company actually owns?
According to DomainTools, Twitter Inc owns about 144 other domains besides Twitter.com ranging from twttr.com to otweet.com to TwitterHosting.com.  Here's a look at a handful of names currently registered to Twitter, Inc.
Twimg.com
Apparently Twitter is using this domain to host images.  Go to Google and type site:twimg.com in the search box, and you'll come across hundreds of high resolution Twitter images such as logos.
MostPopularTweets.com, MostTweets.com
Twitter doesn't own PopularTweets.com or TopTweets.com, but in early May 2009, Twitter registered the domain names mostpopulartweets.com and mosttweets.com.  Both re-direct to Twitter.com.
MultipleTweets.com
Twitter appears to have registered several domains on May 8, 2009.  MultipleTweets.com is another name in the batch.
TwitterTrafficMachine.com
Run by Bill Crosby, the Twitter Traffic Machine was one of many online courses that promised to show Twitter users how to make money from Twitter. Suspected by many to be a scam system, it appears Bill Crosby turned over the domain name to Twitter in early 2010.
Sumize.com
In 2008 Twitter acquired the Summize search and also hired 5 of the company's employees.  I can confirm that Twitter owns Sumize.com, but the search engine's orginal domain summize.com, currently doesn't resolve and is privacy marked.
wwwtwitter.com
Twitter finally owns the mysterious www domain that had been re-directing to TechCrunch for months.  The web address now redirects to Twitter.com.
Twt.tl
One of the more notable domain names Twitter is currently building for its URL shortening service is T.co – but the company doens't own the name, yet.  Twitter was granted rights to the name as part of the .CO Founders Program, and once Twitter meets all the requirements, the name should eventually change over from the .CO Founders Program to Twitter.  Other Twitter domains the company owns and re-directs to T.co include Twt.tl.