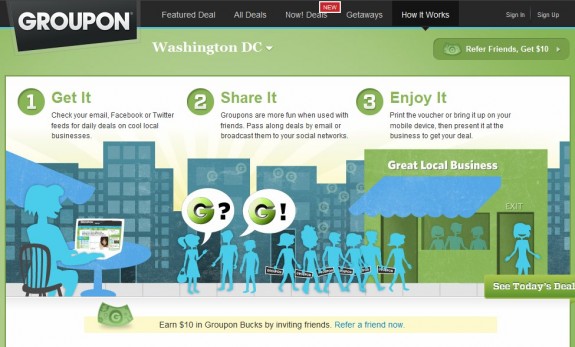 Groupon recently announced Groupon Rewards, a loyalty program offered at no cost to merchants who want to reward repeat customers.
But now it appears the group buying giant might be launching a paid version of its deal-of-the-day services.
On October 17, Groupon registered fourteen domains (including typos) around the phrase "Groupon Premium" like GrouponPremium.net and GrouponPremium.org.
While this may be nothing more than defensive domain registrations by the daily deals site, it could also mean Groupon is planning to launch a premium paid service that provides either advanced service offerings for merchants or customers or possibly both.
With Groupon's planned initial public offering now expected to be smaller in size, the company could be trying to improve its financials by providing a paid service.
Here's a look at the full list of domain names registered yesterday through the brand protection company Corporation Service Company.
gouponpremium.com
groponpremium.com
grouonpremium.com
groupnpremium.com
grouponpemium.com
grouponpremium.biz
grouponpremium.net
grouponpremium.org
grouponprmium.com
grouponremium.com
groupopremium.com
gruponpremium.com
rouponpremium.com
wwwgrouponpremium.com
Groupon wasn't able to land grouponpremium.com.  According to WHOIS records the name was registered on January 28, 2011, by Genie Ventures Ltd, a lead generation and internet marketing company.