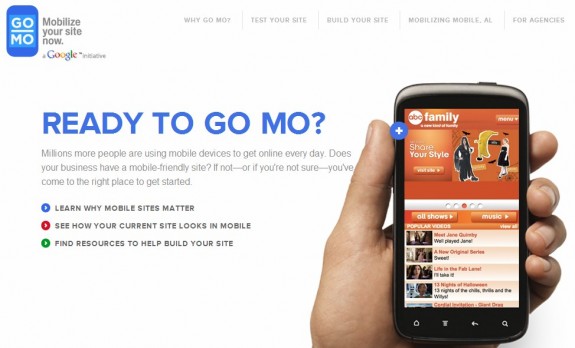 Google has been the source of many stories reported here that have drawn a lot of attention by other tech blogs and news sites, from its purchase of YouTube.xxx  to going after typosquatters, to its acquisition of the domain names schemer.com and dartlanguage.com, to Photovine– the list goes on and on.
Google is a speculative favorite.
But the biggest Google story on Fusible by far in 2011, has been discovering Google's plans to help companies go mobile.
I wrote about Google registering the domain Howtogomo.com in early September, but that didn't raise any eyebrows.  Google owns thousands of domain names, and routinely buys domains for any number of reasons.  Many of its properties often go unused.
In late October however, wondering what became of the web address, I typed the URL into my internet browser and was shown an 'Access Restricted' web page that displayed the message: "Mobilize your site now."
The story then appeared in Techmeme's hand-picked headlines and from there was picked up by PC Magazine, CNET and other publications.
On November 1, Google made the website public.