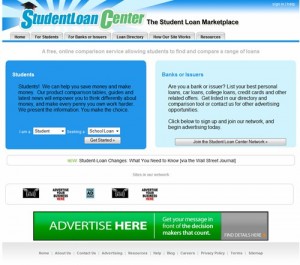 We haven't made a big marketing push yet to Banks or Issuers, but we've soft launched the Student Loan Center site so we can work on SEO and uploading content. 
We acquired StudentLoanCenter.com on the domain aftermarket last year and even the type-in traffic is over a thousand visitors each month.  If you're a domainer or webmaster and have advice on the best way to get quality listings, we'd love to hear from you.
We also acquired StudentLoanCenter.org, shortly after we picked up the .com on NameJet. 
Obviously, the biggest challenge will be ensuring we have high quality listings and resources on the website, so we can have a trustworthy brand and that's what we're striving to do.  We were going to use our CJ.com 'Commission Junction' account to post affiliate ads, but on the advice of other Domainers, we decided against it since we could probably generate more revenue through direct advertising.
The site has a long way to go, but if you have time, we'd appreciate your feedback.