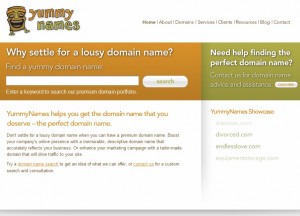 Indeed many domain names that are purchased with the word 'domain' in them, end up in the hands of domainers, aftermarket websites or registrars.  During the last year there have been several notable purchases like YummyDomains.com, GamingDomains.com, ByuDomains.com, Domain.pl and many more.  We take a quick look at some of these names, and what they're up to now.
Domain.pl which was purchased in September 2008 for the cool sum of $45,000 went to European Domain Name Registration website, EuroDNS.  In a smart business move, EuroDNS also acquired Domain.my via Sedo for $16,000 a month later in October.  Both names resolve to EuroDNS. 
Byudomains.com (an obvious typo of BuyDomains.com) was sold at Sedo for $3,260 in Septebmer 2008.  The name doesn't appear to have been purchased by BuyDomains.com as it sits on a parked page, and according to Domain Tools, the site doesn't get any significant traffic whatsoever. 
GamingDomains.com has done a great job with their name that was purchased in October 2008.  Gaming Domains offers aged Premium Gambling Domains for Sale and it's a fully developed website.  They even show up on the first page of Google Search results for the phrase "gaming domains".
YummyDomains.com was also purchased in October 2008, by Tucow's YummyNames.  Tucows saw their Second Quarter profit rise in the recent Earnings report.  YummyNames owns premium domain names that generate revenue through advertising or resale, and owning YummyDomains.com makes sense.  They purchased the name from Afternic for $2,800.
Other domains with the keyword 'domain' over the past year to note:
MyDomains.net purchased for $1,200 (parked at Sedo)
iDomainName.com purchased for $1,088 (parked at GoDaddy)
An interesting name that was acutally purchased in 2007 for over $17,000 – DomainNameAuctions.com – sits on a parked page.