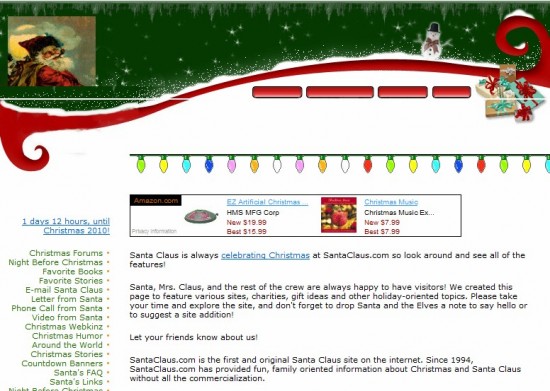 Kids everywhere are online searching for Santa, and there's one site in particular that hasn't changed much since the nineties – SantaClaus.com which is owned by Christian Riley who has been buying and developing domain names since the early nineties. 
Christian writes a blog about domain names, politics, the internet and more on ChristianRiley.com.  Though the site is not regularly updated, it's an interesting read.  Christian shared a story about SantaClaus.com and Bruce Waldak, a friend of his who passed in 2007 on his blog back in 2008:
I met Bruce in 1993.    We did business together in initially the software field – statistics and tracking software for CSG/digitalNation (dn.net) when it was running FirstClass.  And then we became friends over time.  Back in early 1994, we were talking one day and I said, "Hey Bruce, if you want to write to Santa Claus on the internet, you'll be hitting santaclaus.com on our servers."  He said something along the lines of, "No way!  You are kidding me!  You can do that?"  (It may have been more along the lines of "No shit!  Your f-ing with me!").  So we spent the next hour talking about names and cool things to do with them and found a lot of great ideas on the topic. He was always looking for a great idea and there were always great conversations with wild ideas to be had.
The look and feel of the SantaClaus web site hasn't changed much over the years, but regardless of how your site looks or whether it has the best content, thanks to a great domain like SantaClaus.com people still visit. 
That's pretty much been the way it is for premium .com names.  Last December, SantaClaus.com had over 100,000 visitors. 
Of course, Christian Riley could do a lot more with SantaClaus.com, but he is a one-man show as I wrote about in late September in a story titled: Halloween.com, Phonebook.com, SantaClaus.com is really just one person, no big companies here
There are a lot of similarities between his online properties.  Visit pancreas.com, phonebook.com, hurricane.com or any of his sites and you'll notice the distinct touch Christian gives to his network.  And despite the lack of a Web 2.0 look, there is no sign that traffic to any of his sites is slowing down.  
Halloween.com had over 500,000 visitors this past October.
Phonebook.com gets as many as 100,000 visitors per month.
What's up next for Christian Riley, who has a number of fantastic seasonal domains?
Looks like EasterBunny.com.  He owns that, too.