Now that I've had time in 2010 to re-think my strategy on domain names I've acquired over the last few years, I've decided to take a handful of domain names that I own and launch a blog. 
MilitaryGamer.com, which has only been online a few weeks, is a lot easier to keep up since I'm a big fan of military first person shooter games like Call of Duty.  As most of my readers know, I like to invest in military-oriented names like ArmyVehicles.com and MilitaryTrivia.com.  With MilitaryGamer, the idea behind the blog is to provide articles on military video games, cheats, walkthroughs, trailers and reviews – the things avid gamers are searching on.
I'm not a developer.
I like blogging, so putting up a web site online about something I enjoy is a no brainer that is a lot easier to maintain, but certainly still takes time to do. 
MilitaryGamer.com Domain Background
The domain name MilitaryGamer.com used to be a fully developed website devoted to the gaming community as far as back as 2003 according to the WayBack Machine (which explains a lot of the backlinks established). 
I picked up the name on NameJet a year ago for $69 after it had expired, about the same time I picked up other $69 names like Videogamejunkies.com which also had expired.
Even though you may not be too familiar with the military gaming community, it's a popular niche.  From the perspective of a webmaster, there is a lot of demand to have a site dedicated to military video games.
MilitaryGamer.net is registered.  MilitaryGamers.com is a growing community of prior and current U.S. military service members who share a common interest in gaming.  There is even  a newly formed gaming news resource site on TheMilitaryGamer.com.
Building out on WordPress
Of course, you might be wondering what MilitaryGamer.com is built on. 
MilitaryGamer is built on arguably the best platform for non-developers – WordPress.  The site uses the very same premium WordPress theme here on Fusible – WP-Prosper by Solostream.  The theme bills itself as: "a clean, professional WordPress theme suitable for a a business website, blog or online magazine."  Though every blogger has a reason for the theme they use, WP-Prosper comes chock full of features:
WordPress 3.0+ Compatible (Including Menu Management)
Clean, Two-Column Layout with Widgetized Sidebar
Optional Footer Widgets
Theme Settings Page for Easy Customization
Quick and Easy Custom Logo Integration
Two Different Featured Content Gliders (Wide and Narrow)
Multiple Home Page Layouts
Threaded Comments
Gravatar Integration
Easy Banner Ad Integration
Post Thumbnails
Drop-Down Navigation (WP 3.0 Ready)
SEO Optimized
Simple Social Networking Integration
Built-In Subscription Widget and YouTube Videos Widget
Multiple Page Templates
Built-In Author Page
And of course, the theme is full of great features, but it's the free plug ins that make a difference.  Some of the plug-ins used on MilitaryGamer include the All In One SEO Pack, Echo, Fast Secure Contact Form, Get The Image, Like, MobilePress, Most Popular Tags, WP Tweet Button and Yet Another Related Posts Plugin.
You'll probably notice the look and feel of the MilitaryGamer logo. 

The logo was designed for free online using CoolText.com.  Since this is a test project, there's no incentive to spend a bunch of money.  Aside from the time spent setting up the site, the cost has been kept low, with the biggest cost being the purchase of the theme which I use across other blogs like Tweetups.com, then the domain name for $69. 
Traffic
Though it's only been a few weeks since first expanding the domain name into a full blog, the site is already up to a couple hundred unique visitors per day with no search engine marketing or paid advertising.  A couple hundred visitors is not much at all, but it's quickly growing.  A big help has certainly been the use of images in posts which have quickly been indexed by Google's Image Search within a week of being online.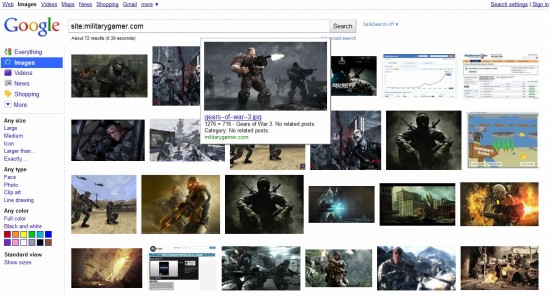 The web site is already ranking well in the search engines for phrases like "Military Video Games" and "Military Games", and since there has been a steady uptick in traffic from a few readers per day to over 200 in just a few weeks, MilitaryGamer.com is a website we plan to keep online.