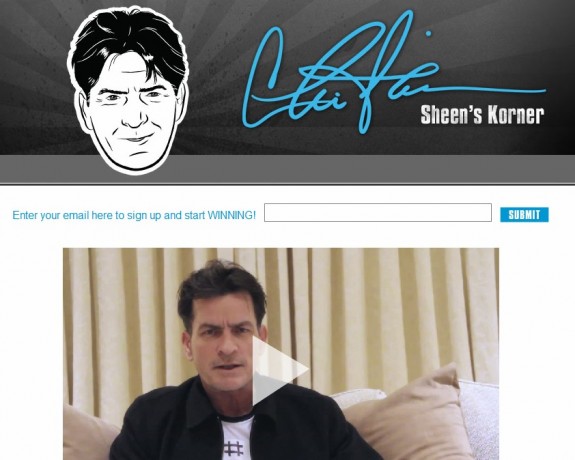 A week ago, I was the first domain blogger to write about the celebrity domain name, charliesheen.com and celebrity domain disputes, since the former star of Two and a Half Men had begun his public meltdown. 
As I had written in the story, Jeff Burgar of Alberta Hot Rods, was the registrant of the name, and had been involved in a number of celebrity domain disputes. 
Now, Jeff Burgar no longer owns the name, Charlie Sheen does, and he already has a website online.
Jeff Burgar had been involved in a number celebrity domain disputes.  Cases had involved Pamela Anderson who won pamanderson.com, Ashley Judd who won ashleyjudd.com, catherinecookson.com (transferred), ianfleming.com (transferred), direstraits.com (transferred), tomcruise.com (transferred), larryking.com (transferred), jrrtolkien.com (transferred), and michaelcrichton.com (transferred). 
The web address charliesheen.com (according to DomainTools) is registered to Evan Spiegel of LAVELY & SINGER PC (Attorneys-At-Law) who represents other Hollywood celebrities.
Earlier today, the celebrity gossip news (blog) Celeb Dirty Laundry, wrote a story about the unveiling of the new site.  As Celeb Dirty Laundry pointed out, Charlie tweeted about gaining control of the domain name on Twitter:
[blackbirdpie url="http://twitter.com/charliesheen/status/46405133042589696″]
Charlie Sheen online achievements
In case you missed the recap of some of the recent Charlie Sheen online antics/achievements that was posted in my previous story, here they are again.  Now you can add winning control of charliesheen.com to the list.
– Twitter: Since joining Twitter on March 1, 2011, Charlie Sheen who tweets using the name @charliesheen, has nearly 2 million followers at the time of this story.  Guinness World Records  announced he set a new record for fastest time to 1 million followers, which he achieved in just 25 hours and 17 minutes.
– Prank: CharlieSheen.com for $275,000:  A person posted a video of himself fooling his friend into believing that he registered charliesheen.com for $12, then tricking him into thinking they're selling it for $275,000.  Watch how it unfolds.