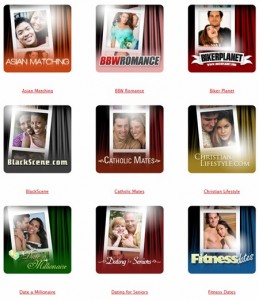 First Beat Media (www.FirstBeatMedia.com) has a lot of success developing domain names into websites.  One of their most successful projects was Soaps.com which they sold to Women United Online.  They also own top-performing names like CelebrityGossip.com, CountryMusicPerformers.com, Unsigned.com and more. 
But instead of letting their names sit around parked, they develop them – even their Niche names which at first glance don't sound like Category-Killers – names like FitnessDates.com, BBWRomance.com, JSingles.com, SingleMomsandDads.com and many more – but what they lack in name, they make up in development. 
They're all dating websites.  They all run on a similar platform.  They all send traffic to another, directly or indirectly, through their Dating Affiliate Program SinglesCash.com. 
Everyone talks about the need for developing your names – but First Beat Media is an interetsing case study of great Development execution, even with niche names that might otherwise not even get a second-look.
Their list of dating sites includes a network of niche names, and the stats are pretty impressive.
DateAMillionaire.com – over 50,000 visitors per month.
BikerPlanet.com – over 50,000 visitors per month.
BBwRomance.com – over 30,000 visitors per month.
InterracialRomance.com – over 30,000 visitors per month.
You can see a full list of their niche dating sites here.
All of their dating sites are built on the same foundation, but each target a different niche.  They've built it once, then re-branded it over and over – then tied it all together through SinglesCash.com.
We wrote about First Beat Media earlier in the week, and it's been fun to learn more about them, check out their projects, and see all the great strides they're making in domaining and development.