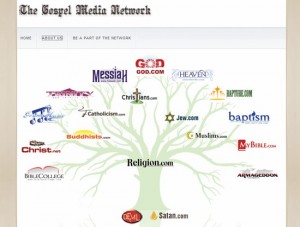 Looks like Kevin Ham is finally working on some big plans for his array of category-killer religious names including Religion.com, Satan.com, God.com, Heaven.com and nearly 20 other names.
Although in it's early stages of development, Reinvent will be launching the Gospel Media Network. Most of the domain names have the Gospel Media Network splash page on the landing page.
The network includes some big names, with some serious traffic that will probably huge BUZZ once the network goes live. Oddly, Reinvent owns TheGospelMediaNetwork.com (which looks to be the future brand of all the names combined), but they don't own GospelMediaNetwork.com. That domain name appears to have been registered back in 2003 by a different company.
From the About Us page of Heaven.com:
The Gospel Media Network (GMN) was conceived in 2000. It had a vision to acquire a handful of very important domain names, such as God.com, Religion.com, Heaven.com and thousands of other related domain names. A handful of dedicated, passionate people who share this vision of using the Internet to share the message of the Pure Gospel have now in 2008 started the work of developing out the sites in a progressive and integrated manner.