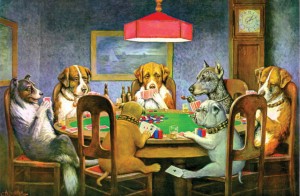 Many individuals and organizations still hand-register domain names. We still do, and with the market favoring the buyer, we're finding more and more domain names deleting and not being registered again. In the past few days we've hand-registered several names, including several poker terms that had been registered for years, that deleted then became available.
We know these names aren't great and in a buyer's market, it will take much longer to sell, but we have plans for these names like many of the names we purchase on the aftermarket. Just because a name is available for hand-registration in 2009, doesn't mean it has no potential for opportunity. It just means you need to do a little more research.
Sample Hand-Registration Purchases in the Past Week
LimitGame.com
SidePots.com
ExposedCard.com
TheGutShot.com
ThePreFlop.com
ThePokerTell.com
PuppyObedienceClass.com
FathersDayCandy.com
TexasHoldemCashgame.com
TexasHoldemCashgames.com
Make sure to check out the Aftermarket sites like NameJet and SnapNames on a regular basis for deals.
The domaining market like other markets will slowly but surely get back to a Seller's market in the near future.