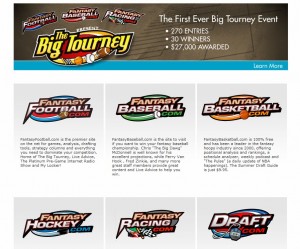 Legenday domainer Scott Day's portfolio ranges from Watermelon.com to FantasyFootball.com, and Shops.com to Haunted.com.  And that's just the tip of the iceberg for this Domain investor.
Scott Day Doesn't Rely on Parking, He Knows Development
Unlike a lot of the prime real estate on the internet that sits undeveloped, Scott Day has been developing his category-killer names for years – long before the downturn in the PPC economy.
Scott Day's development company Digimedia – turns his domain names into "places people want to go." 
Digimedia offers prime examples of how a large portfolio of names can be developed – each into it's own business.
Scott's incredible "fantasy" sports websites are more than just content – they have Staff, offer advertising, receive hundreds of thousands of visitors, and are part of killer-network of developed sites that Scott Day also owns: FantasyBaseball.com, FantasyHockey.com, FantasyFootball.com, FantasyRacing.com, Draft.com, FantasyBasketball.com, FantasyPlanet.com and more.
Scott is also featured in David Kesmodel's book The Domain Game – a great read for those new and old to the domaining industry.
And for those who want to learn more about the backgrounds of some of the most successful domainers in the industry, it's a chance to see how they did it.
The Product Description on Amazon even highlights Scott Day: "Learn how an Oklahoma watermelon farmer wound up owning some of the world's most valuable Web addresses, from recipes.com to chairs.com…"
Frank Schilling Writes about Scott Day
In a past story by Frank Schilling on his blog Seven Mile, Frank talks about Scott as a visionary in the industry.
Recipes.com, Webhosting.com, GrandCayman.com .. If the value of Internet based businesses were judged on the reach, resonance and drawing power of their domain names alone (as many value domain investors believe they should be), Scott's portfolio would be a billion dollar enterprise. The man is a Marine, a decent human being… and his portfolio of names is pure Gold.

Well, catching up with Scott at the last TRAFFIC conference reminded me to check out some of his less known, less traveled sites and let me tell you folks.. Scott is showing us all that the future of parked pages are virtually indiscernible from fully developed websites.
Check out the full story by Frank Schilling on Frank's Seven Mile blog.
About Digimedia
Founded in 1997, DIGIMEDIA owns and operates a portfolio of powerful, common, generic domain names and corresponding web sites. Our domains and websites are located by internet users via type-in navigation to their browser's address bar. This form of direct-navigation has been found to contain some of the purest, most highly qualified web site traffic possible. DIGIMEDIA provides simple and inventive enhancements to help each visitor quickly find the information, product or service they needs..

DIGIMEDIA's goal is to build each of our web sites into great web businesses that solve visitors' problems and to complete various interwoven networks of related sites. Sites are currently at various levels of development: from advertising gateways (recipes.com) to full-blown content sites (fantasyfootball.com). We continually review and adjust our sites to make sure they are relevant, simple and most importantly, helpful.

As Internet usage continues to grow and multiply, premium quality type-in traffic will continue to increase. At the same time, DIGIMEDIA will begin to utilize effective no-cost and low-cost marketing using search engines and simple viral campaigns to amass additional quality traffic and increase usage of our sites.