The category-killer domain name Property.com that Rick Schwartz sold to Foreclosure.com for a rumored 8-figures (which he originally purchased for $750,000), is set to launch this month according to the Property.com website. 
As reported on Rick's blog, Brad Giesen the Foreclosure.com, President and Founder, plans to build an online real estate empire. Over the past few weeks the Property.com landing page has changed appearance. Although most Coming Soon pages are usually more elegant than the current Coming Soon page, it really won't matter, as the site will be launching any day now.
Here's a snapshot of the Property.com Domain name over the years, taken from Archive.org.
Property.com – 1996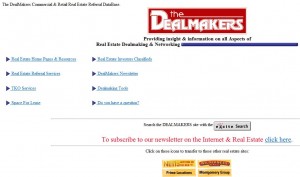 From the mid-nineties through 2005, The Dealmakers had an online website that evolved over the years, branding itself as the internet's oldest commercial real estate online. In 2005, the site got a new look and feel after Rick Schwartz acquired the name.
Vision for the NEW Property.com Website
From Rick Schwartz' blog:
Property.com will include all listing types, including those indexed the Multiple Listing Service (MLS), creating a database that could surpass more than 15 million homes, but not including distressed properties, which will remain the business of Foreclosure.com. The best part is that it will be totally free to search for potential buyers and visitors, and sellers will be able to upload and edit their own personal listings at no charge.  It's a wide-open model that Geisen knows will create an invaluable resource for just about anyone interested in real estate
About Brad Giesen, Founder and President, Foreclosure.com
Ten years ago, Brad Geisen founded Foreclosure.com and built it over time to a company with more than 1.8 million foreclosure, preforeclosure, bankruptcy, FSBO and tax lien listings in one place, Foreclosure.com delivers America's largest and most accurate searchable database of foreclosed homes and distressed property information to its customers and business partners. Based in Boca Raton, Florida, Brad Geisen and Foreclosure.com work with hundreds of top lending institutions and government agencies to list diverse property types on its Web site, including Real Estate Owned (REO); Department of Housing and Urban Development (HUD); Department of Veterans Affairs (VA); Fannie Mae; and other government agency and financial institution properties; as well as listings from an extensive network of corporate sellers.