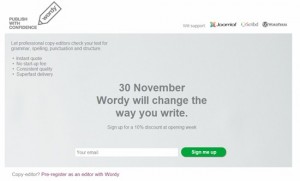 Seems like more and more Domains on the Aftermarket are being acquired by end users with plans already in mind.  Wordy.com which sold on Sedo last month for $20K is set launch online at the end of this month. 
It looks like Wordy.com will be an online marketplace to connect copy-editors and writers. 
According to the site, it will: "Let professional copy-editors check your text for grammar, spelling, punctuation and structure."  The site will offer an Instant quote, No start-up fee, Consistent quality, and Superfast delivery.
What's so Great about the Deal?
According to NameBio, the name Wordy.com sold on SnapNames for $3,279 in February 2007.  Not a bad investment at all.  And for the owners of Wordy.com – it looks like this was a perfect fit for their Vision.  
Congratulations to both Parties!  If you're committed to Domaining and have patience, you just never know.