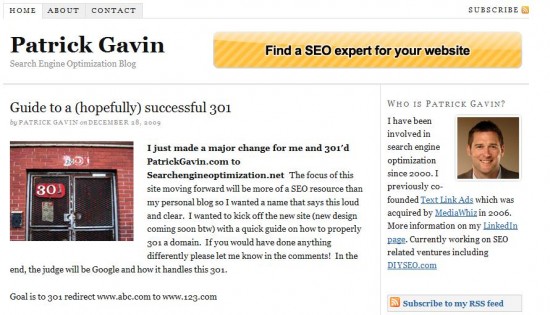 November 27, 2009.  It's already been 1 month and the clock is ticking for Patrick Gavin to take SearchEngineOptimization.net to the top page of Google over its .COM counterpart.  Nov. 27 is when Patrick purchased the name and he plans to take the domain name to the top page of Google within 1 year.  Patrick's first order of business:  he made a major change and 301'd PatrickGavin.com to SearchEngineOptimzation.net.  A 301 redirect is where you permanently move a website to a new location without receiving any penalties by search engines. 
We wrote about Patrick earlier this month when he only had a simple welcome post.  Things have changed in the last few days.
PatrickGavin.com hit a traffic high in 2009 of nearly 20,000 visitors in May, while SearchEngineOptimization.net has gone from 147 visitors per month in Feb. 2009 to nearly 4,000 unique visitors in Nov.
You can read through his blog archives – articles that also cover domain names.  In one article titled, "All the good domains are gone? NP just use (Pet name + Pet type).com" – he writes about a friend of his that grew BudCat.com  into a successful business. 
A little bit about Patrick:
From the newly updated SearchEngineOptimization.net:
I have been involved in search engine optimization since 2000. I previously co-founded Text Link Ads which was acquired by MediaWhiz in 2006. More information on my LinkedIn page. Currently working on SEO related ventures including DIYSEO.com