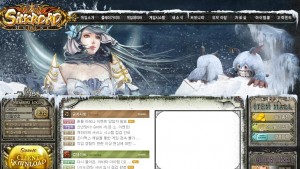 The phrase Silkroad Online refers to a popular Korean fantasy (massively multiplayer online role-playing game) or MMORPG.  According to WikiPedia, "MMORPGs are very popular throughout the world. Worldwide revenues for MMORPGs exceeded half a billion dollars in 2005, and Western revenues exceeded US$1 billion in 2006. In 2008, Western consumer spending on subscription MMOGs grew to $1.4 billion.
World of Warcraft, a popular MMORPG, had over 11.5 million subscribers as of December, 2008."
The domain name SilkRoadOnline.com was sold through GreatDomains.com for 7,610 Euro (or about $11,000 USD). 
While the Registrant still shows Sedo, we're assuming the name was picked up by the game's creators.  The domain itself gets over 2,000 type ins per month, while the Korean Servers official website over at joymax.com gets about 16,000 visitors per month.
Other Related Tidbits
MMORPGS.com is parked at Sedo.  Type in visitors to the domain is over 1,000 visitors per month.
MMORPG.com is a fully developed online multiplayer games web site that gets nearly 200,000 visitors per month.  In Dec. 2008, it received well over 1 Million visitors.
MMORPG.org is parked at Sedo.  Type in visitors to the domain is over 2,000 visitors per month.
Demand Media appears to own MMORPG.tv.  The name sits parked.
Worldwide, Exact Global Searches for the phrase "MMORPG" is nearly 1 million.  The phrase "Silkroad Online" had over 200,000 exact global searches.
Believe it or not, Massivelymultiplayeronlineroleplayinggame.com is registered.  We could be wrong, but based on the landing page, Kevin Ham looks to be the owner.
We just hand-registered MassiveMultiPlayergame.com (it was deleted and available again, and aged over 5 years).  MassiveMultiPlayergames.com is owned by Frank Schilling.
Very few MMORPG related domains appear on SnapNames or NameJet.  However, MMORPGmods.com is listed on NameJet with 0 bidders at the time of this posting.
Other notable GreatDomains sales that accompanied SilkRoadOnline.com include SuperMortgages.com which sold for $7,500, and nghenhac.com that sold for $15,100.