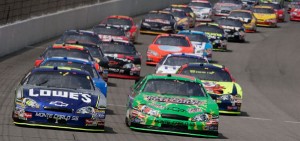 Nationwide Mutual Insurance purchased the domain name NationwideSeries.com for $6,000 at Sedo's GreatDomains.  Nationwide Insurance has been the title sponsor for the NASCAR Nationwide Series events since 2008. 
The events are NASCAR's second most popular racing series, supported by more than 75 million fans, including 2.7 million who annually attend NASCAR Nationwide Series races — according to information taken from Nationwide's web site.
Owning the domain name gives Nationwide the chance to build an online presence to promote their partnership with NASCAR and create a community for fans to go that is completely focused on the racing.  With a separate media platform, Nationwide can build in social media, fan pages, statistics and much more to draw in thousands of visitors.
Related Nationwide Series Domain Tidbits
Nationwide Insurance also purchased NASCARNationwideSeries.com on Jan. 15th, 2010.
Nearly every other TLD of the phrase NationwideSeries is available for hand-registration.  Looks like Nationwide is only focused on owning the dotCOMs in a number of variations.
TheHotLap.com, a separate website focusing on news, photos and features about the Nationwide Series, gets as many as 9,000 visitors per month.
Other Notable Sales Recently at Sedo
implant.eu 5,010 Euro
podium.com   7,900 £
crystalblue.com   11,300 $US
usagardener.com   8,250 $US
betin.com   10,000 Euro
burj-al-arab.ru   7,000 $US
fastnacht.de   5,950 Euro
annonce.net   8,000 Euro
jordanien.de   17,850 Euro
daviderossi.com   9,350 $US
photobox.dk   7,000 Euro
musik-total.de   9,520 Euro
About the NASCAR Nationwide Series
The NASCAR Nationwide Series is a stock car racing series owned and operated by the National Association of Stock Car Auto Racing. It is promoted as NASCAR's "minor league" circuit (often compared to Triple-A baseball), and is a proving ground for drivers who wish to step up to the organization's "big league" circuit, the Sprint Cup. Nationwide Series races are frequently held in the same venue as, and a day prior to, the Sprint Cup race scheduled for that weekend, encouraging fans to attend both events.

The series was previously called the NASCAR Busch Series and the NASCAR Busch Grand National Series. In December 2006, NASCAR officials confirmed that Anheuser-Busch, parent company for Busch Beer, would not renew its sponsorship of NASCAR's No. 2 series after the end of the 2007 Season.