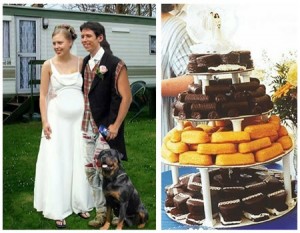 Redneck.com: redirects to cyberlinks.com.  Redneck.net: redirects to portal.grandecom.net.  But Redneck.org is up for auction at NameJet after dropping and in the right hands could be a powerful, fun website.  What would be the point of the website, is anyone's guess but the search traffic is huge. 
The keyword redneck has a local search volume over 100,000 [exact], and globally, the keyword has a search volume over 200,000 [exact]. 
Not bad considering the term Redneck is generally considered offensive, but then, offensive terms get decent search volumes.  According to Answers.com, the term "redneck" originated in reference to white agricultural workers, alluding to how the back of a person's neck will be burned by the sun if he worked long hours outside.  According to Wikipedia, it's similar in meaning to cracker [cracker.com is parked at Sedo], hillbilly [hillbilly.com is parked at Above.com] and white trash [whitetrash.com is an under construction website seeking models].
Creativity might be needed for this domain
 
The top Google search results for the keyword redneck are wikipedia and urbandictionary pages.  But even other sites that appear in the top 10 results get several thousand unique visitors per month.
Redneck.org may seem like a silly domain to develop, but with a little creativity and imagination the site could be a fun destination, with some serious search traffic.
Unfortunately, it looks like the name might not go cheap.  At the time of this posting, the domain has over 47 bidders on NameJet. 
Over the years, redneck.org had been developed and appears to have been owned by the same person since the late nineties.  The website  was the homepage of Billy Bobs Texas – the world's BIGGEST Honky Tonk.  Text on the archived page reads:
"…er my little corner of the WEB thats jes fer RedNecks 😉
In case you have problems speaking redneck, rednecktranslator.com just expired at GoDaddy on April 6, 2010.  Speakredneck.com is deleted and available again.  But before you jump at these names, "redneck" domains haven't fared too well in the aftermarket.  The highest reported redneck sale was FloridaRedneck.com in 2007 for $94.