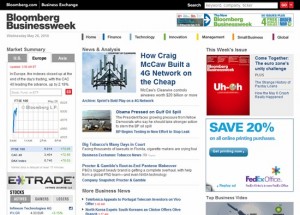 Bloomberg the company that was the winning bidder for BusinessWeek magazine in 2009, recently incorporated the Bloomberg name in the logo and updated the BusinessWeek.com website.
As some writers suggested, the acquisition of BusinessWeek presented Bloomberg with a challenge of having to incorporate an outside operation since Bloomberg hadn't made an acquisition of another business since the late 1980s.
Bloomberg's First Internet Blunder with BusinessWeek
Not renewing PersonalWealth.com, could be the first major internet blunder by Bloomberg.
The URL personalwealth.com redirected visitors to the Investor section of BusinessWeek since the early 2000s – but now the name has expired and is up for auction at NameJet.
The name expired May 3, 2010, just weeks ahead of the staff at the former BusinessWeek magazine moving to its new Bloomberg headquarters.