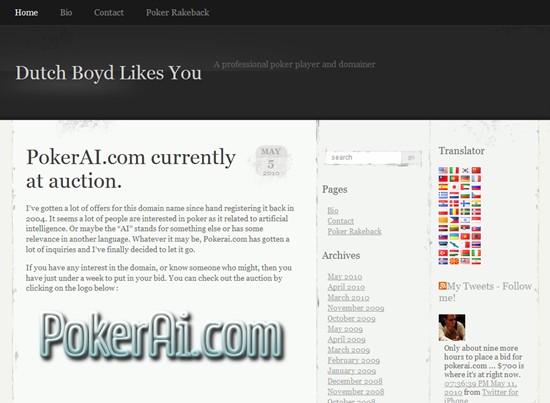 WSOP Bracelet Winner Dutch Boyd returned to one of his favorite past times on his personal blog: domain names. 
Dutch Boyd began the month of May with a new website look on DutchBoyd.com.  The website title even has the word "Domainer" added and reads "A professional poker player and domainer".  The website redesign while simple and clean, introduces readers to the thrilling adventures of a professional poker player who is also a domainer – a phrase many of his site's visitors may have no idea about. 
Readers scouring his blog though, will certainly be surprised to learn he discusses domain names as much as he discusses his poker career. Though his blog has gone quiet the last couple weeks, his two most recent entries discuss two of his domain names – one that he put up for auction and the other, a hand-registered domain name which he built into a Q&A website.
The name Dutch put up for auction was Pokerai.com, which sold on May 12 through Sedo for $700.  VegasAnswers.com is the name he registered months earlier after it had expired.  The website now provides answers to frequently asked questions by would-be visitors to Las Vegas.
As much a Domainer as he is a Poker Player
 
Dutch owns domains like HeadsupPoker.com and Cured.com and had described plans in August 2009 for unveiling a Domain Registration service through his GoDaddy affiliate account on JackNames.com, but the "Under Construction" page hasn't changed since then.
Dutch Boyd has been the subject of several stories here on Fusible and having domainers who get  media attention helps bring more attention to the domain industry, which is a good thing.
From Dutch Boyd's Blog Bio
I'm a Vegas pro poker player. A part-time domainer. And the greatest Photo Hunt player to have ever lived. I am recovering from a nasty cigarette addiction that I gave up when I discovered that smoking causes cancer. They knew it all along. I drink Cherry Zero ™ now instead of Pepsi because I don't want the calories. I am the 2nd youngest law school graduate ever. I am a Blood Elf Rogue. I lived every poker player's dream by winning my World Series of Poker bracelet in 2006, going headsup against the then reigning world champion Joe Hachem… all in front of the ESPN cameras.

I am just like you. I put my pants on one leg at a time. Except after I do that I crush souls at the poker table.

I live in Vegas with my beautiful girlfriend Michele and our two puppies… a shipoo named June and a puggle named Stuey Ungar. Just a 29/m playing through life trying to make the right moves.