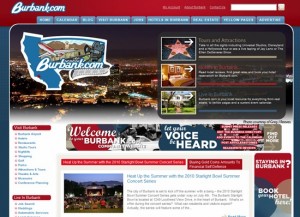 Elliot Silver has been talking up the re-launch of one of his premium internet properties: Burbank.com. 
The new website was developed by Scottsdale.com's and their "City in the Box" platform. 
Scottsdale.com has been responsible for designing, developing other geo domain names including Sunnyvale.com and GreatFalls.com.
So, what do you think of the new web site?
According to Scottsdale.com, development packages start at $12,500. 
Here's a look at their product pitch, which is linked to a portfolio of other websites built on geo domains that are operational.
Do you own a geo domain, but have never built it out? Or, worse yet, just have the name parked? If so, you are wasting an incredible opportunity.

The times where you could purchase a domain name and sell it a few months later for a profit are over. To truly profit from a valuable geo domain name you now need to build out a website and populate it with content, advertisers and partners.

Don't start from scratch by trying to learn how to build a geo domain on your own. We take the hassle and stress out of building a new site – not to mention the expense and years of hit or miss learning and tweaking that goes in to developing a successful geo domain.

Take advantage of our experience in the geo domain space and let us build out your geo domain for you!
What does ScottsDale.com have to say about Burbank.com?
 
Here's what Fred Mercaldo of Scottsdale.com had to say in the comments about our coverage of the newly designed web site:
This site is actually 2-3 days away from being ready for announcement, however it is 99% complete.  Although this is our CityInTheBox.com platform, this build out took additional time and manpower, as we normally build from scratch, but needed to keep all of the page rankings and links Elliot established previously.  We have been getting an unusual amount of advertiser inquiries that started about 2 weeks ago, a tribute to what Elliot had built previously.

We are looking forward to the next 3-6 months, as now we will soon begin our marketing initiatives, and our goal of building an excellent revenue stream begins. 

Thank you for including the news about us and Burbank.com in your site. 
Fred Mercaldo, Scottsdale.com.