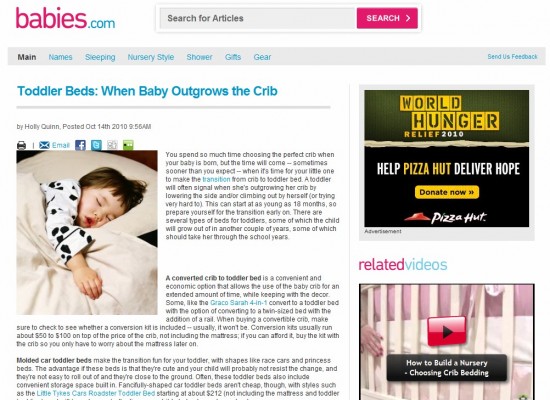 I'm not sure when this partnership was struck, but National A-1 has partnered with AOL on their babies.com web site.
The goal of the Babies.com web site is to help people with helpful answers to all things baby.  If you need help on what to buy a baby, what babies need, or what to name your baby – as the web site states, "Babies.com offers honest answers for today's parent, or any baby fan!".
Babies.com is runs on the same server as several of AOL's other online magazine properties such as Asylum.com and LemonDrop.com.
Last month, AOL agreed to purchase TechCrunch.com, the technology blog that profiles startups, reviews new Internet products, and reports on breaking technology news.
About AOL
AOL Inc. (NYSE: AOL) is a leading global Web services company with an extensive suite of brands and offerings and a substantial worldwide audience. AOL's business spans online content, products and services that the company offers to consumers, publishers and advertisers. AOL is focused on attracting and engaging consumers and providing valuable online advertising services on both AOL's owned and operated properties and third-party websites. In addition, AOL operates one of the largest Internet subscription access services in the United States, which serves as a valuable distribution channel for AOL's consumer offerings.
About National A-1
National A-1 Advertising, Inc. was established in 1990 as a full-service advertising agency offering an advertising and marketing presence for retail, corporate, and professional businesses. Our services include media buying, ad placement, and graphic design.
Building profitable relationships with clients and their target audiences requires innovation and more than just a catchy slogan. We create powerful ideas that transform our client's businesses. We are fortunate to work with many top businesses and professionals as well as many small businesses that have experienced dramatic growth using our premiere advertising services and employing our skills that put us in the forefront of technology.
National A-1 Internet was established in 2002 and was spun off from National A-1 Advertising Inc.
National A-1 Internet is a leader in the development of innovative, state of the art technology. We use that expertise to run our own websites and those of a select few of our partners. From the creation of cutting-edge software to hosting, encoding, digitization, and offering bandwidth, National A-1 takes ideas and creates solutions from conception to creation without relying on outside vendors.