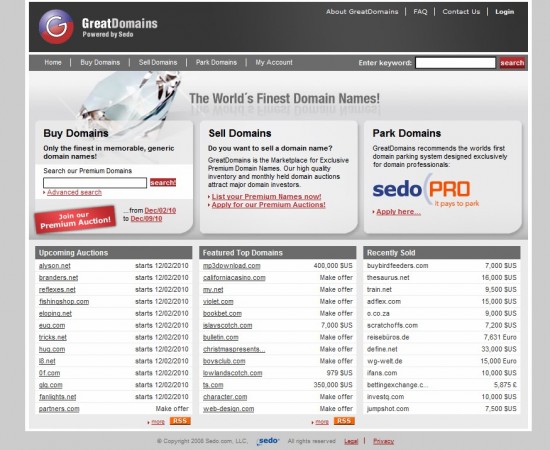 The most recent sales at GreatDomains have been posted. 
The sales include BuyBirdfeeders.com for $7,000, Thesaurus.net for $16,000, Define.net for $33,000, Train.net for $9,500 and Adflex.com for $15,000.
Flex Multimedia Group, a company that provides marketing solutions for advertisers and publishers, purchased the domain Adflex.  Adflex currently has a Beta site online.
DomainOptions, Inc. is listed as the new registrant of Thesaurus.net, which is currently parked at GoDaddy.
BuyBirdFeeders.com, Define.net and Train.net are currently in Sedo's Transfer service, so the new owners and sites have not been revealed.
Sedo has had a number of blockbuster .net sales in 2010, with Lottery.net which sold in August for $220,000 being the biggest .net sale of the year. 
At the time of this story, Lottery.net is nothing more than a 1-page web site that explains how lottery games work.