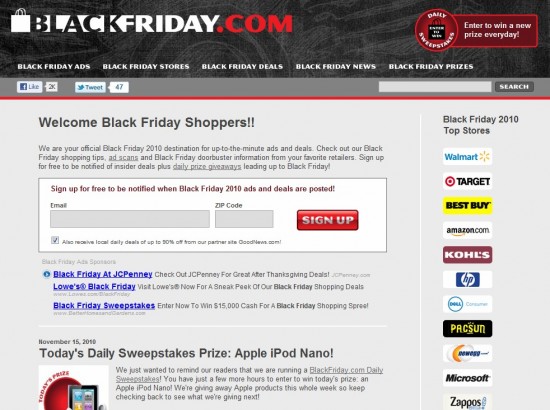 BlackFriday.com is getting good press coverage by the media with less than two weeks to go until the busiest shopping day of the year.  All you need to do is type in "blackfriday.com" into Google News to get an idea of the site's popularity.  'Among a number of websites, blackfriday.com is the fore runner as it carries the name of the festival itself. The website advocates for retailer, Target announcing its Black Friday reward of $10 gift cards for shoppers who spend $100 by 10 a.m.' writes one news site.
Reinvent hasn't had to do a lot of PR, because the web site does most of the work, and of course, the category-killing domain name helps to build the site's brand and credibility with users.  The company did however take out a press release last week entitled: 'Consumer Black Friday Shopping Predictions Released' that gave some bullish predictions on this year's Black Friday shopping. 
Reinvent has also been doing quite a few things to expand its GoodNews.com user base, with subscribers to Black Friday's newsletter opted-in to GoodNews.com by default, unless users opt-out when signing up.
As of November 4, 2010, BlackFriday.com was showing up in the #9 spot in Google search results.  Here's a look at the current rankings for the search phrase: black friday as of today. 
#1:  bfads.net
#2:  blackfriday.info
#3:  wikipedia
#4:  blackfriday.com
#5:  blackfriday.org
#6:  theblackfriday.com
#7:  black-friday.net
#8:  blackfriday.gottadeal.com
#9:  twitter.com/blackfriday