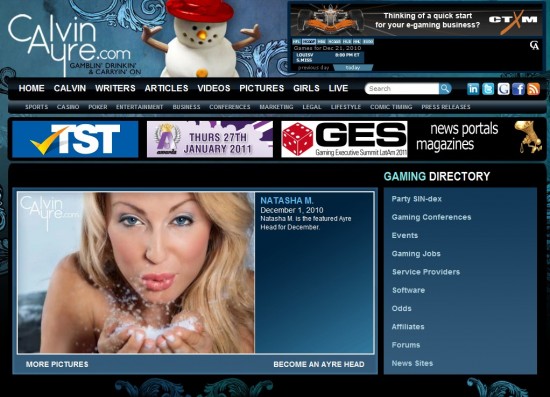 While you've probably visited CalvinAyre.com, you may not have realized it before, but the web site is also referred to as Tablog.com.  The term was coined by Calvin Ayre in 2009 in order to describe a new breed of blog –  a tablog – "tabloid" + "blog".   Typing in the web address tablog.com will also take you to CalvinAyre.com.
While the search volume for the term "tablog" isn't big, Calvin Ayre has managed to get it listed in Wikipedia.
"Tablog"' is a neologism (a portmanteau word conjoining "tabloid" and "blog") and refers to a specific form of blog, usually maintained by an individual or organization, with regular entries of commentary, descriptions of events, graphics, video, and with links to other blogs, web pages, and other media related to its topic. The element that distinguishes a tablog from other forms of blogs is the selection of material or means of presentation, which tends to sensationalize, emphasize or exaggerate for effect, and which often focuses on scandalous information relating to the personal lives of celebrities or of members of their target industry.
In addition to Wikipedia, Calvin Ayre's tablog as he calls it, which launched in the fall of 2009, is up for an award. 
Jamie Hinks, a writer for CalvinAyre.com, announced the blog is up for Best iGaming Community.  The competition includes BingoPort, CasinoMeister, CasinoAffiliatePrograms, Coinflip, EquipoAzartia, Global Gaming Events, GPWA, PokerStrategy, and SportyTrader.
Though being the first to register a popular term is rewarding, imagine coining your own term.  In August 2009, Calvin Ayre did an interview with CasinoCity where he talked about the launch of his tablog and the term.  The interview was re-published by GPWA. 
When asked what his plans are for CalvinAyre.com, he replies, laughing: "Well, as you know, I'm not a big fan of a 'me too' approach to anything. CalvinAyre.com will be something new, something entirely fresh in the online gaming space. I've coined the term "tablog" for the site – a "tabloid blog" – because it will be a site focused on developments in the online gaming world globally, and my perspectives on it, but done in a completely fresh and entertaining way that doesn't take itself too seriously. People will agree or disagree with me and they may love it or hate it, but I can guarantee it won't be boring and it'll be entertaining."

Calvin is no stranger to fame, respect, and envy, but he also knows how to handle inevitable criticism from those who read about him virtually. This is a great talent to have mastered in executive blogging world as one of the keys to executive blog success is being able to make fun of yourself and admit to your mistakes. Another key to executive blog success is providing a doorway into the personal life, hobbies, and opinions of the executive, also something that Calvin has mastered and is happy to share. Combine this vision with online gambling industry news and gossip, cool videos, exotic girls, conference and event reporting, and additional "famous" recurring characters and you've got yourself an online gambling industry…tablog.
Though Calvin Ayre gets credit for coining the term, he wasn't the first to register the domain.  The first owner (dating back to 2000), had a blog online long before blogs became mainstream.