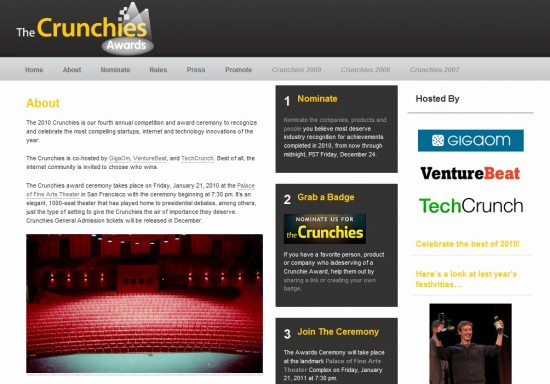 If you regularly visit TechCrunch, like I do, you'll see breaking stories about startups and technology companies and even the occasional domain name.  However, the fact is as savvy as Michael Arrington's TechCrunch is when it comes to the internet, the technology blog doesn't know everything about domain names, at least, that's the case with one particular domain name having to do with one of the biggest events TechCrunch organizes and hosts every year: The Crunchies Awards.
If you're not familiar with them, The Crunchies is an annual competition and award ceremony to recognize and celebrate the most compelling startups, internet and technology innovations of the year.
And at the time of this story, thecrunchies.com domain name is not registered, despite receiving several hundred type ins each year according to a report provided by Compete.

Back in 2008, when the name was registered, it was a website that celebrated the most tasty cereals of the year.  Celebrating the most tasty cereals looks to be a good idea, but the fact the owner let the domain name expire indicates it never took off.
Now I'm not saying TechCrunch needs to have the domain name thecrunchies.com, or that the name is even worth spending $10 to register, but you would think that with all of TechCrunch's technology experience, the company would spend a few bucks to register the name and at least re-direct it to their annual competition.  Or who knows, maybe even set up a website that has information about past years' events that makes it easy for people to dig up information all in one place.
The Crunchies 2010 are in full swing.  And in case you didn't know, there's even an in person awards ceremony.
The Crunchies will be held on January 21, 2011 at a new venue, the landmark Palace of Fine Arts Complex. The awards ceremony will be begin at 7:30 pm at the Palace of Fine Arts Theater with the After Party to follow at the Exploratorium until 11:30 pm. Tickets will be released in batches starting December 15. Keep an eye on TechCrunch as they sell out quickly.
I certainly won't be registering the domain, but you can bet it will only be a matter of time before someone else purchases the name and sets up some type of online competition, maybe once again for tastiest cereals.
UPDATE:  Within seconds (not minutes) of my story running, a reader registered the domain name (Whois).